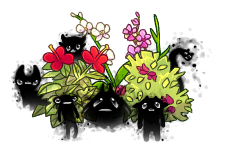 Thanks for joining Avian and Totoro on their 2018 Summer Vacation!

The numbers of 'metallic beasts' have decreased, so finally the spirits have been able to grow new plants to claim back the resort and golf course. Jungle species are returning, and soon the place will be back to it's former self.

Maybe it wasn't such a smart idea to build a resort in a jungle? Resort staff and guests are packing their bags to leave with the next shuttle, so we better join them and get out of here!

Today is the last day of new trade-ins but you can still find tokens today and for an additional three days after that! Some of the resort staff and jungle dwellers also have some more free gifts for you, so make sure to visit them daily!