Try out the items by dragging them onto the pets! Drag the items back to where they came from to get rid of them.
Click the "species compatibility" buttons to see how the items will automatically change themselves to fit the pet that you put them on.
Birthstone Set (May)


Emerald is the birthstone for people born in May! Fits cats and dogs. This set made by Yağmur will only be available for purchase during Mays.

Species compatibility: Dog Cat
Other Scythes


These scythes were made by DoctorDraca, and are designed to fit into the mouth of adult dogs

Species compatibility: Dog Adult Dog Adult 2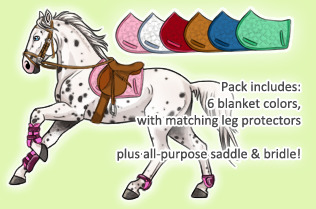 Get your horses, ponies, draft horses, and zebras saddled up for a ride! These items were made by Yulynh and Berkshire, and they now fit most equines, including the rainbow mane!
Horse Racing Tack


Take your horses down to the track! Sets include a saddle and blanket, fly mask, and bridle - except for one set which has no blanket in case you want to use one of your other saddle blanket items! These items were made by Bentley and fit adult horses

Species compatibility: Horse Adult Horse Adult 2 Horse Adult 3
Goggles


A range of awesome goggles designed to be worn as a head accessory for dogs and puppies! Made by DoctorDraca

Species compatibility: Dog Adult 2 Dog Adult Dog Child Dog Child 2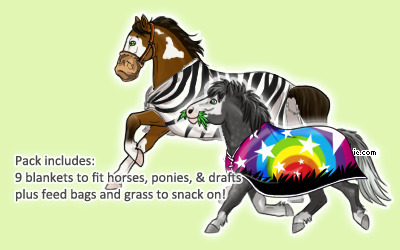 Care for your horses, ponies, and draft horses with these free equine snacks and blankets <3
Items made by Yulynh, Tyr, and Tess