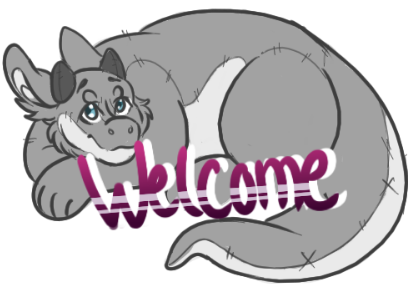 ════════════════════════════════════════════════════════════════════════════════
【Main Page】 ||【Nursery】|| 【Archive】 || 【Fanclub】 || 【Customs/MYOs】 || 【 Artist Search】
【Shop】||【Growths & Transfers】|| 【Leveling Up】 || 【Artist Bulletin】||【Discord】
════════════════════════════════════════════════════════════════════════════════
Tʜᴇ ᴛʀᴀɪʟ ʙᴇɢɪɴs...
Looking to get your first starter huh? Well you've come to the right place!
This is the place where your journey into the dreamscape begins.
Here you can create the perfect chief to lead your tribe and your clan
to victory if times call for it.
Sᴛᴀʀᴛᴇʀ ʀᴜʟᴇs

▶

All starters are

One Common and below MYOs

. Meaning you can make a starter with one common trait.

Although clan specific traits are off-limits.

▶

Before you begin using your Puffkin, you must wait for the approval of a staff member

▶

You are only allowed to make one starter for yourself.

▶

If you need some assistance with creating your starter, feel free to contact

credit or another member of staff and we shall certainly get someone to make it for you.

▶

You may add items/accessories to your Puffkin.

▶

You are not allowed to edit the initial lineart (like custom lined, edits are fine)

▶

Remember, you have to have your crest made before you can post for a starter.
Once you've read the rules, please post this form below and
we'll get you added to the proper clan page to create your tribe's chief.
▶
Each clan will have a few starter rules, so be sure to read those as well!
Code: Select all

[center]
If you'd like to create your own starter, post the form below.
[size=150]Sᴛᴀʀᴛᴇʀ Fᴏʀᴍ[/size]
[i]I'm creating my own starter![/i]

[b]username;;[/b]
[b]chosen clan;;[/b]
[b]troop link;;[/b]
[b]crest link;;[/b]
[b]link to mark on the front page;;[/b]
[/center]
If you need help and want a member of staff to create your starter,
post the form below and a member of staff will claim it~
Code: Select all

[size=150]Sᴛᴀʀᴛᴇʀ Fᴏʀᴍ[/size]
[i]I'd like someone to create my starter![/i]

[b]username;;[/b]
[b]chosen clan;;[/b]
[b]troop link;;[/b]
[b]crest link;;[/b]
[b]inspiration;;[/b]
[b]link to mark on the front page;;[/b][/center]