Main Thread
-
Information
-
Breeding
-
Store
-
Discovery
- Listings -
Artist Search
-
Discord Fanclub
-
CS Fanclub
Wild Walker & Import Page
Auctions:
Current Event:
None
Staff:
Imaginary (Full-Time Artist)
-
Tynahi (Full-Time Artist)
- [url]HowlingHooves[/url]
HowlingHooves (Trainer & Store Manager) - Night (Archivists)
✗

-------------------------------------------------

✗
I
n the late 1980's, a group of well established Tennessee Walker breeders took a stand against the 'big lick way' of showing. They decided to break away from their upper class horse society and create a new breed that would have the high natural gate to rival the big lick, without the harsh training techniques. They first culled their herds, only using the greatest dams and sires to create the foundation for their new breed. They began by cross breeding to the Andalusian and Lipizzaner for their large size, grace, and fluid movement, before breeding into quarter horses for their determination and western performance. Appaloosas and Paints were also added for coloration and to boost all-around discipline skills. The resulting horses were bred to Saddlebreds, Fox Trotters, and then in to Tennessee Walkers again to keep the gaited-ness and to increase the breed's height.
The breed was beginning to be accepted by the public until people realized the horses didn't have as much of an athletic ability as the creators first promised. People began crossing the new Walkers with Thoroughbreds and Arabians to make up for this set back. After a few years, it was decided that the addition of the Thoroughbred and Arabian gave a positive outcome and bettered the breed, giving them a more athletic appearance and better endurance than before. At the end of developing the breed, the Tennessee Walker was added on yet again to remind us all where the breed first started.
✗

-------------------------------------------------

✗
C
oldwater Walkers are known for their determination, but quiet manor. They are a perfect beginner horse breed as they are gentle and affectionate. They are very flexible and adapt well to almost any dicipline. This breed is also known for being a bit stubborn, as their determination to please their owner can sometimes make them hard to work with. They are generally not a first time owner breed, but horses with the correct dispossition can definately be a great match for a beginner rider and even owner. Coldwater Walkers are very loyal and tend to join up with one or two specific individuals, but will be relaxed and comfortable around many others if well socialized.
✗

-------------------------------------------------

✗

· usually between 15.2 and 17.2hh; can be smaller
· long, thin forelegs
· built hindquarters
· athletic
· gaited (able to preform the rack as well as the fox trot if taught)
· slightly outwardly dished face (baroque type horse face)
· long, flowing mane & tail
· wide, muscular chest
· lean, slender body
· graceful head
· long, thick neck
· large shoulders
· large ears
· small, delicate feet
· large eyes
✗

-------------------------------------------------

✗
Advertising: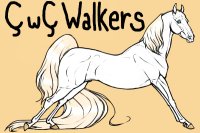 Code: Select all

[url=https://www.chickensmoothie.com/Forum/viewtopic.php?t=3831966][img]http://www.chickensmoothie.com/oekaki/image/image.php?id=2922469&size=gallery&format=auto&rev=1503941876[/img][/url]
Code: Select all

[url=https://www.chickensmoothie.com/Forum/viewtopic.php?t=3831966][img]https://i.imgur.com/Kx731T2.png[/img][/url]

Adoption Form (All Artists Please Use This)
- all horses must have a chosen gender by the artist before adoption

Code: Select all

[quote][img]http://txt-dynamic.static.1001fonts.net/txt/b3RmLjM2LmZhODIxNC5RM0psWVhScGJtY2dWR2hsSUVKeVpXVmsuMAAA/antro-vectra.regular.png[/img]
[color=#FF8400][b][size=150]I[/size][/b][/color][color=DimGrey][size=85]n the late 1980's, a group of well established Tennessee Walker breeders took a stand against the 'big lick way' of showing. They decided to break away from their upper class horse society and create a new breed that would have the high natural gate to rival the big lick, without the harsh training techniques. They first culled their herds, only using the greatest dams and sires to create the foundation for their new breed. They began by cross breeding to the Andalusian and Lipizzan for their large size, grace, and fluid movement, before breeding into quarter horses for their determination and western performance. Appaloosas and Paints were also added for coloration and to boost all-around dicipline skills. The resulting horses were bred to Saddlebreds, Fox Trotters, and then in to Tennessee Walkers again to keep the gaitedness and to increase the breed's height.
The breed was begining to be accepted by the public until people realized the horses didn't have as much of an athletic ability as the creators first promised. People began crossing the new Walkers with Thoroughbreds and Arabians to make up for this set back. After a few years, it was decided that the addition of the Thoroughbred and Arabian gave a positive outcome and bettered the breed, giving them a more athletic apperance and better endurance than before. At the end of developing the breed, the Tennessee Walker was added on yet again to remind us all where the breed first started.[/size][/color][/quote]

[b]Username:[/b]

[b]Show Name:[/b]
[b]Barn Name:[/b]

[b]Height:[/b] 0.00 hands
[b]Gender:[/b] artist chooses

[b]Sire:[/b] Foundation
[b]Dam:[/b] Foundation

[b]Eye Color:[/b]
[b]Phenotype:[/b]
[b]Genetic:[/b]
[b]Breeding Notes:[/b]

To Adopt this Horse:
End Date:
[code][b]Username:[/b]

[b]Show Name:[/b]
[b]Barn Name:[/b]

[b]Height:[/b] (between 15.2 & 17.2hh)

[b]Halter Color:[/b]
[b]Metal Color:[/b] Silver - Gold - Copper - Brass - Black Titanium - White Titanium

[b]Image:[/b]
[/code]