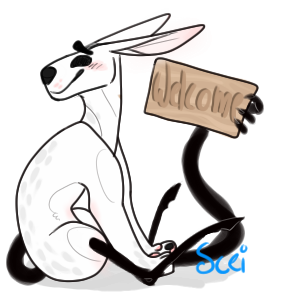 x


x


Why are you highlighting/quoting this?
shoo I'm supposed to be hidden
WHAT IS A FLIT?

wrote:

Shadow Flitz (Singular; Shadow Flit) are a long bodies species that have long since lost their hind legs, tail, and eyes to the power of the shadow and have replaced them with mold-able wispy appendages. these large, friendly beasts have been recently tamed to be ridden by humans and anthros alike. They have large, wide front paws, long pointed ears, and short, smooth fur. They can be naturally found in dark caves, wetlands, or thick forests. however have also been spotted in pastures while hunting. They are carnivores- meaning they are only meant to eat meat and they often prey on birds, deer, rodents, and bats.
Code: Select all

[size=85][quote="[b]WHAT IS A FLIT?[/b]"][color=#606060]Shadow Flitz (Singular; Shadow Flit) are a long bodies species that have long since lost their hind legs, tail, and eyes to the power of the shadow and have replaced them with mold-able wispy appendages. these large, friendly beasts have been recently tamed to be ridden by humans and anthros alike. They have large, wide front paws, long pointed ears, and short, smooth fur. They can be naturally found in dark caves, wetlands, or thick forests. however have also been spotted in pastures while hunting. They are carnivores- meaning they are only meant to eat meat and they often prey on birds, deer, rodents, and bats.[/color][/quote][/size]
[url=x][img]Event_Icon[/img][/url]
Our artists and Staff members;