~Welcome to Ash's HQ Character Shop!~
Here is where I will be posting any and all characters that I have designed that are up for auction/sale. Characters can be bought with

Chicken Dollars (C$)

,

pets

and/or

Flight Rising currency

. Please read the rules before bidding/purchasing!
Rules here: https://sta.sh/0wjbtjksdso
~Pets I Really Want~
If you offer
ANY
of these pets below, I will automatically accept it without question.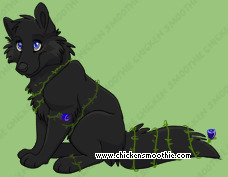 I'm also looking for the
Zodiac dogs.
~Deadly Nightshade Dokusei Dragon~
~100 C$ or Pet Equivalent or 125,000 FR Treasure or 100 FR Gems~
What are Dokusei Dragons?
"A dokusei dragon is an open species made by
RootDeerFloat
on DeviantART. It is a toxic/poison saliva creature, typically known to be docile unless harmed. They vary in size, pattern, shape and colour.
Dokusei Dragons are based around toxic items/plants/animals. For example, Tide (owner's own dokusei dragon) is based on red tide algae. Anything you come up with that is poisonous."
~Character #2~
~No character yet~
~Character #3~
~No character yet~
~Character #4~
~No character yet~
~Character #5~
~No character yet~
~Character #6~
~No character yet~
Don't see anything you like? You can order a custom at my art shop here: http://www.chickensmoothie.com/Forum/viewtopic.php?f=21&t=3555079#p111922309