A Lestril Pet
Dandolms ~ Adoptable Horse-Wolves
Open
Current Round is Open until the current Dandolms are adopted.
I will be posting to start a round and again to end the round, or extend it. Only the forms posted between my two posts will count. I try to close the rounds in the evening (my time). All official posts of this nature will be put in a new post.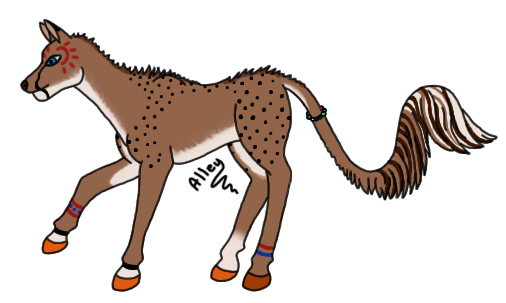 This is Griss (pronounced like "this" but with a "gr" instead of a "th") and she is the first Dandolm and the official Dandolm mascot.
I made her as an entry for a contest; the person running the contest wanted new characters and allowed the entrants to make their own line art. When I didn't win I decided to make a species out of her.
The official Lestril thread can be found here.
The archive can be found here (No posting).
My time zone is CST - Central Standard Time (GMT -6)
Breeding is open.
Stock Items coming soon; just need to make the linearts.
Custom Items are open.
Events and Special Offers
Species Information
Staff, Blacklist, and Rules
Owners and their Dandolms
Adoption
Pound
Breeding
Items
Stamps and Advertisements