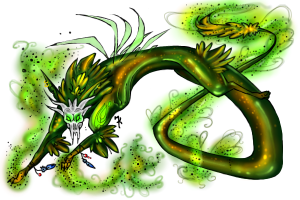 "Ƭнɛ Ƨтσяʏ σғ тнɛ Ƨʋммσиɛя σғ Ƥɛƨтιℓɛиcɛ"
The old legends of our ancestors speak of the Ancients as great beasts who are the embodiment of power. No one really knows how these dragons came to be. Some say they are the result of a Rune Dragon reaching it's peak of the magic it holds within itself. Others say they are pure magic manifested into dragon form. I believe them to simply be what they are. Ancients ,and nothing more, though terrifying indeed. Where their existence came from is unimportant to these creatures. What really matters to them is their desire to obtain a Summoner to create a pact with and share in their powers. However, some pacts are cursed while others are a blessing. The Ancient of Pestilence is one such cursed pact, and he requires a great price in order to call upon his true name and take his power for your own. I am sure you have guessed by now that the Ancient of Pestilence is one of the Four Dragons to bring about the End of Days. Where as it's brother Death shows mercy upon the mortals and spends it's time in the final hours of every human, Pestilence shows no such care like his sibling.



....



You are the forgotten. You feel no connection with others of your kind as they shout you down and curse upon your name. You are believed to be

"diseased"

when indeed you are perfectly normal. Yet, everyone treats you as if you carried the plague. They avoid you, avert their gazes, and whisper silently to their companions to stay away. You are alone and hardened to their words. Resolved to being an outcast and knowing that not caring for another means nothing can tie you down. You endure where others are too weak to prevail. Living on the streets or alone, you have worked hard to be one with the shadows, and in this hard life have learned how the world works. Every day is a struggle to survive and with each day you live, is another victory at life itself. However, on this day, something happens that you were not expecting. You were acknowledged by another human being, a young woman clad in a green hood and accompanied by a silver haired man, speaks to you as you try to figure out why? She pulls back her hood to reveal bright green eyes and a kind face. You hesitate, does she want something from you? Is she going to hurt you? But no, she simply smiles remorsefully and hands you a deep green emerald that is almost as black as night. Dark flecks dot the stone at it's center and seem to be...moving? You look up to question the young woman as she gives you yet another kind smile. It unnerves you to be given such attention when no one ever gave you a second glance before, but she proceeds to tell you to follow the stone's calling and that your future will soon be changed forever.

You do not know what to make of this as the woman and man slowly turn away and leave you holding what seems to be a priceless gem. Why follow a gem when you could just sell it? But then, the stone begins to hum violently and burns your skin as if to punish you for daring to make such a thought. You can not resist it's calling, no matter how hard you try to forget. With each passing day the urge to answer has become overwhelming, and you are forced to follow it's call. You travel endlessly away from the city streets that you grew up in. The wide open world scares you but it is just one more thing that you resolve yourself to concur. The stone seems to lead you to a misty forest, the trees are bare and grey, as all sound of life are nonexistent. You truly become frightened of this as you clutch the only familiar thing close to you. The mist is so strong that it blocks out the sun and you are left in darkness, your heart is the only sound that stirs. Finally you relent and slump to the ground as the stone burns brightly once more and you fear that you have been sent to your death. The mist thickens and you hear faint footsteps echo all around you. Looking about wildly you stand up, ready to face whatever foe that comes, but are stunned to see glowing eyes pierce through the fog and reveal a form only spoken of in legends.



"Do not look so surprised human. I was the one who summoned you here..."

Your mouth has run dry as you just stare at the sleek form of an Ancient before you. It's lean body boasts strength and a hidden speed that could easily overtake you, yet it stands tall and imposing. "Your a dragon! W-why have you called me here. I am a nobody to you, or anyone for that matter." You want to run but find that your legs are firmly bound by some unseen force and can only stare at the Ancient as his wispy voice speaks.

"A nobody you say?"

The dragon chuckles to himself as he slowly brings his skull masked face towards you.

"My dear sweet child, that is why I have called you here. You are one of the forgotten ones, someone who is never spoken to but sees all, hears all, and knows how to endure life's hardships. I am the Ancient of Pestilence! I bring disease and misery upon those who are too weak to live, while my brother Death leads them to the afterlife. I am one of the Four who summons the End of Days, yet I have no summoner to call my own. That, my dear, is why you are here."

You feel very uneasy as the dragon whispers to you as if you were some sort of prize to be had. Yet, you feel a longing, the attention he gives you and his words are so true that you feel yourself nodding in agreement to what he says.

"I am not like some of the other Ancients. My pact requires a price in return for what I can offer you..."

You narrow your eyes and peer at this dragon "And what is the price to be your summoner?" You ask apprehensively. His eyes seem to light up at what appears to be a smile,

"You will belong to me and will come when I call. Unlike the other Ancients, I am the one who will summon you, and you will be mine. In return I can give you the power to call upon the hoards. Simply utter my true name and the rats will feast upon your enemies, Fly's will overwhelm those who ignore you, and the locust will devour the crops of the lands who invoke our wrath. We will give those unworthy of life a slow and painful death, but it is what they deserve if they can not endure like you and I, correct?"



You look to him with a deep stare as he awaits your answer. Would you really be the one to deal out the necessity of disease so that others who overcome it grow strong? You would indeed, though the methods may be cruel, disease is needed to weed out the week and ensure those that endure it's wrath live on to pass on their endurance so that their young may live strong. Like Death, pestilence is needed just as much as anything else. It is a part of our world and we grow stronger by concurring it's sickness, or at least this is what you believe to be so. You utter the Ancients name as if you had known it all your life, and his eyes gleam happily as the pact is made.

"You will no longer become afflicted with death or disease. Time will stand still for you as your bounds to mortality are cut. You are mine and we are the same. Together we will do what is necessary, even though others may think it to be abhorrent. You will no longer be ignored, but feared! And your life will change forever..."
Thorn's Writings wrote:

-Study Notes-

~Summoning Stone of Pestilence- Rune Stone is a large clear emerald with a mark in it's center and what appears to be moving black flecks floating within it.
~This Ancient is not for the faint of heart. He only desires a Summoner for his own personal gain and offers a cursed pact. In return for his power the Summoner must forfeit their mortality, this is a curse for any mortal creature that was never meant to live on endlessly as the Ancient will use you as a channel for his power. You will gain the ability to summon the hoards at your command but do not summon Pestilence lightly. He is not one of the lowly rats you can just call and will only come if he deems it necessary or perhaps entertaining.
~The Ancient Rune has many names; Famine, Pestilence, Bane, Venom, Taint, Corruption, etc...What its

"true"

name is, however, can only be known by it's summoner...
~This Ancient is one of the four apocalyptic dragons who bring about the end of days in Eldemore. He is kin to Death which has already been summoned, as well as War and Conquest. Where his last two siblings are however, have yet to be known, but rest assured they do not carry blessed pacts for those who can call their names...
~Another important trait about this dragon is that even in his human form he has never been seen without his skull mask. Some say he has no face, while others say it is too horrifying to look upon, only his Summoner may be allowed to look upon this Ancients face but even then he will require a price for you to do so. His human form is far from revolting though, he is tall and very lean with attractive features. His voice is what truly draws you in. It is smooth and young with a deep husk to it as he speaks behind his mask. Pestilence is very good with persuasion and his voice only adds to this effect when speaking with those of the opposite sex.