All my darlings <3
I'll list all my characters and pets here, including their art, personality, etc.
I was previously known as CrazyWolfFreak and/or CrazyCatFreak, so some of the pets have that owner name on their adoption pages

My fursona
Frances
x
x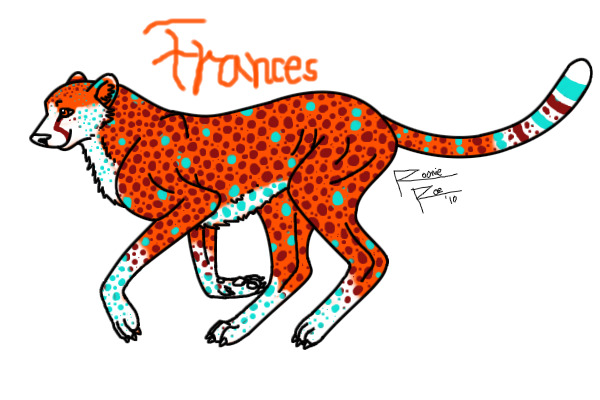 Frances is a very very unique coloured feline, her actual species is unknown. As my fursona, she spends most of her time with me. We mostly make a walk through parks or go to the beach, where she enjoys trying to catch seagulls. A weird fact regarding her is that she likes watching TV, especially anime series, and seems to enjoy reading manga, which is another weird thing because she can actually

read

and understand it. Sometimes I join her and we discuss the developments of the characters. Her favourite manga and anime are Naruto, One Piece and Black Butler.
Oxiries
Donner (male)
Blue (female)
Claire (female)
Wildstripe (female)
Julia (female)
Hypnotic (male)
Ellena (female)
Tabea (female)
Tiko (male)
Wild Mountain Equids
Put into another thread:
xXx
Guardians of the Sea
Fino (male)
Summerspirit (male)
Clara-Marlen (female)
Alutorses
Samantha (female)
Tyzon (male)
Midnight Hour (male)
Horses of Savanha Farm
Skydancer (male)
Antanasia (female)
Shirokko (male)
WIP
Other Equids
Snow's Falling Down (female)
Paint (male)
Aqua Power (female)
Midnight (female)
Magnus, The Magnificient (male)
Dina (female)
Eindras
Elbe (male)
Olivia (female)
WIP
Felines
WIP
Canines
Blue Moon (male)
Wasserstrom (male)
WIP
Others
WIP