This is a news post addressing recent events affecting CS users worldwide. Many users have questioned why we haven't made a public statement about the Black Lives Matter (BLM) movement. We recognize that the issues brought up by the BLM movement are a priority for many members and they would like to know where we stand.
Staff have been discussing how to address the community needs in relation to the BLM movement for the past week. We didn't wish to make an insincere statement just to jump on the bandwagon. It was important for us to think and discuss about how we as an online community can effect change. We want to allow users to explore and develop their own views without a heavy influence from the personal values of the admin team. However, it is not good for us to stay neutral when this means ignoring human rights issues. Because of this, we have previously taken an official stance against anti-LGBT movements, and now we are taking a stance against racial inequality.
We wish to make it clear the admins and staff of CS support the BLM movement. BLM is the slogan of a group fighting for justice, equality, and safety from racial profiling and violence towards black people. I apologize for the delay in expressing our support, and to those users who have felt unsafe or marginalized by our silence.
In response to BLM, many people like to show support for other groups with movements like "All Lives Matter" and "Blue Lives Matter". However, these statements can be interpreted as a dismissal of BLM and the issues faced by black people in particular. Like you, we also support equality and safety for all people, but it is important to recognize that not all groups are being treated equally, so to achieve equality we need to focus on bringing up the people who are being left behind. I think
this comic
explains this point well.
Many CS users are directly affected by racial inequalities or by the BLM protests going on worldwide. These are dangerous times, and many of us can only safely participate from our homes. As a result, there is a lot of important discussion and campaigning on social media and websites like CS. We would like to support these discussions; however, we need to keep discussion age-appropriate and respectful so all members can safely participate. Please immediately report posts or profiles to staff if you think a discussion is getting out of hand.
In acknowledgement for these issues we have created a new rule:
Confederate Flag images/themes are no longer allowed.
While many have viewed this flag as a symbol of southern pride, it is also representative of a historical movement to maintain black slavery and white supremacy. We wish to remind users that Nazi themes and imagery are also not allowed. It's important to understand and acknowledge mistakes from history, but we don't wish to honor these views with representation on CS today.
We would also like to address an issue regarding an item we released in Halloween 2010. This was named "Native American Costume" and was intended to be a representation of traditional Native American clothing. However, members have pointed out that features of the outfit are culturally inaccurate, and feel that it was an inappropriate theme for a costume. We have many cultural themes in our pets and items on CS, and make an effort to be culturally accurate and respectful, as the intention is to celebrate these cultures rather than to dismiss their significance. Our views have grown and changed over the years, and we acknowledge that this release is offensive to some users today. However, we are also aware that the item has trade value on CS, so deleting or changing it would have an impact on the users who have owned or traded it. We have renamed this item to "Deerskin Outfit" to reduce the racial connotation.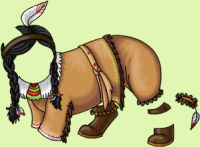 If anyone owning the Deerskin Outfit wishes to have it exchanged for a different outfit of similar value from Halloween 2010, please visit
this page
to trade it in.
For users who would like to discuss the BLM movement, you may join
this topic
found in the Adults (18+) board. Please remember younger members can access this board if they choose, so keep your comments safe for all ages.