banner made by
Loelya
♡


.




Thread's Purpose


Rarity lists have been created based on the complete rarity change histories of all very rare, OMG so rare! & store pets. This thread aims to help players understand pet values without the influence of demand.

How It Works


Every rarity change that VR and OMGSR pets, and all store pets have gone through is recorded here and on our

Google spreadsheet

; this information alone can be used as a resource/archive for rarity changes (with sources). All pets are then listed in order of most-least rare in three separate lists - OMGSR Rarity List, VR Rarity List, and Store Pet Rarity List. Pets with fluctuating rarities are placed based on their most recent change

whilst taking previous changes into account

. If pets share the same fluctuations for at least two of their most recent changes, they are listed together as being equal in rarity. However, most gaps in between tiers are very small (only a month or two) so it would likely be fair to swap pets within a couple of tiers of each other.
.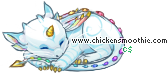 Any and all feedback/input/corrections are welcome!