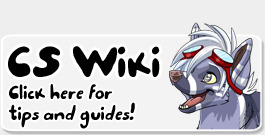 Recently the team has decided to do a major update to the CS wiki. Our objective is to make sure the wiki is up-to-date, informative, and easy to navigate.
While the project will take a while, we do need the community's help on one aspect: unofficial pet names. Unfortunately we've fallen behind on this, so we need the community to help put names to some of these neglected faces. Bellow, in the second post, you will find the pets that we currently need help with! Just keep these rules in mind:
Do:
• Link posts from past discussions on relevant pets
• Feel free to suggest your own name
• Find posts artists made about the pet
Don't:
• Move on to pets we haven't asked for
• Push us to update a specific guide
• Comment about non-pet name guides here
We only want input on the pets we specifically ask for. Do not suggest other pets, guides, or aspects of the wiki.
Much of the wiki is out-of-date so we need to work following our own plan in order to make sure we are well organized.
____________________
If you have another suggestion about the wiki you may
PM Burrito Bunny
(please title it "CS Wiki") and she will follow up with the rest of the team if it's not already on our to-do list. Please see the third post for additional details about what you can help us with.
Please do not pm the ghaa as this account is not always checked frequently!