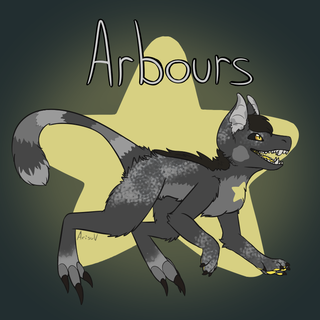 Hello! Introducing the Arbours!
Arbours are a CLOSED species, you are NOT allowed to make one without having a MYO ticket!
W

hat are Arbours?

Arbours are tree-dwelling creatures that can be found worldwide. The largest populations are found in the Redwood forests, but a lot are also found in the Spruce forests that border the Tundra. The Arctic variant has much longer fur and a slightly different religion than the other kinds.

They all feature long striped prehensile tails that grip branches to help them keep their balance, large ears that help them hear at night when they can't see(They do not have night vision), long claws that dig into the bark, retractable front claws, sharp teeth as their main diet is meat though they will also eat berries, and most will have a star pattern on them somewhere on their bodies. (The chest being the most common)
W

hat are their religions?

Arbours live their lives dedicated to the stars! They believe the stars will tell them their purpose in life if they respect them. They have dreams that will allude to something they should do (Perhaps they needed to move their settlement to avoid a forest fire, or they had to stock up on medical supplies to battle a plague. It's their purpose in life to convince everyone else to do those things). The arctic variant has nearly the same beliefs, but with the Aurora Borealis rather than the stars. They believe when the Aurora appears, someone would learn their purpose.
H

ow do they live?

Arbours all live in treetops, no matter where they live or what type of tree they live in. They construct buildings that act as nests out of sticks, shedded fur for insulation, moss for the same reason if available, and twine. Despite not having thumbs, their dew claws act like one and they have full control over them. They are very social creatures and will live in packs of up to 200 or more if space allows!

They all pitch in to take care of the kits(babies) and can have up to 3 kits per litter, though 1 or 2 is much more common. The more kits a mother has in one litter, the more likely a mutation will occur in one of the babies.

Arbous all help each other in their daily lives, from building nests, to raising the kits, to hunting, to taking care of the sick and elderly. However, they do have 1 or 2 leaders of the pack that are called alphas like with wolves. They do not rule with an iron fist, they lead with example. If something has to be done, the alphas will start it first. They take care of morale and are the most trusted members. There can not be two alphas of the same gender.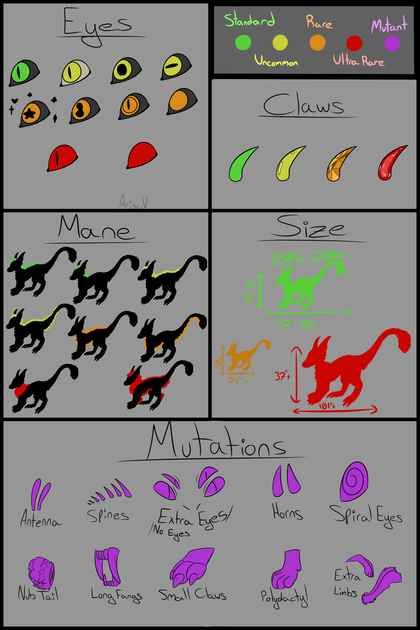 This is their rarity sheet! A little hard to see, but they are about the size of a very large wolf, perhaps a little bigger.
More mutations will be unlocked as time goes on!
Not listed:
All ears are standard. (Except for more than one pair, that would be a mutation)
All tails are the same as pictured. (Unless very short, that would be a mutation)
(All decals in post are free to use from an offsite)