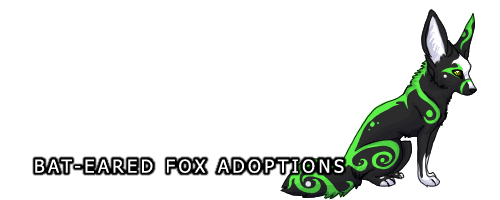 IF YOU HAVE QUESTIONS, PLEASE SCROLL DOWN TO THE INFO POST AND READ THE FAQ FIRST
Fan club?! Omg no wai 8D 8D
viewtopic.php?f=39&t=269675
Bat-Eared Fox Adoption Staff
EmberWolf- Admin "creator", artist
tiny - basically a god
Kyuubi no Kitsune- Minimod, artist
Tyasi- Archivist, guest artist
TigressMin- Artist
Duh- Artist
LunarFaith- Minimod
Scamps- Minimod
-Guest Artists-
Aima
*Any mod that is italic with a star next to it is in danger of being kicked off the staff because they are either inactive, unhelpful, handling situations incorrectly (arguing, being rude), or are breaking rules. If you are italic- either get your lazy butt moving and do some work, or change the way you moderate!
BEF Chat Staff
AnonymousInsight- Mod
Any staff member on the thread is a mod on the chat
Note- tiny has automatic admin privlages, you must bow down to her :3 She is the only other admin besides myself on the chat.
No more minimods are neccessary ;D
______________________
THE ALL IMPORTANT RULES
-No stealing the designs or art
-Do not use any adoptable that isn't yours
-Do not use adoptables off of CS without my given consent (PM me)
-Do not take credit for design or adoptable
-Do not edit the adoptable or design
-Do not remove link back to this post on adoptables
-Do not bother me when new adoptables will be put out
-All CS forum and art rules apply!
Follow the rules or you get a warning. After three warnings, you are put on the blacklist.
*****
ADOPTING RULES
*****
-You may only adopt 1 fox a day, 1 fox per batch, 1 fox per litter, and 1 fox per group
-When asking for kits from litters, do not edit the post later to add the parents' names. You must put the parents' names in or else it is unfair to those who take the time to put the names in when you post "female name and male name" If I catch anyone doing this, you will be disqualified from adopting from that litter
-It is acceptable to say "Can I name later?" or "Can I name it when I see it/it grows up?" But do not neglect to name it for too long. I expect most everyone to name their foxes BEFORE they grow up. If you don't name your fox before it grows up into an adult, I will most likely name it something for you. You may or may not like the name. (You can change it later)
-Any name changes are okay, PM or post what you want to change it to

-
I do not do customs
-Do not complain about missing a litter/batch/group, as it is only spam and is very annoying. If you missed a litter/batch/group, tough luck. There will be more
-Have patience, and put all spam in the chat!
-Do not edit your forms under any circumstances
-If you have more than 10 foxes, you can only adopt once a month. If you have more than 15, you cannot adopt unless from a fox you bred or special occasions (holidays, contests, etc)
If you cheat on a litter by editing the names in, you get a 3 day suspension from adopting. This means you cannot try for the parents, and if any litters/batches/groups happen to be put out in the next 3 days prior to your suspension, you cannot adopt from those either.
_______________________
THERE WILL BE NO FORM EDITING

AT ALL

ALLOWED DURING FOX RELEASES!
Even for typos!
This is for ALL releases. Litters, batches, and groups!
This is because so many people edit before I can see what they edited for, so its hard to catch cheaters! If you spell a parent fox's name wrong- LEAVE IT! I won't not count your forms for mispellings and typos.
If you spell the name you want to give your fox wrong- LEAVE IT! And tell me the correct way later.
If you typo something- LEAVE IT! I don't care about typos
If you DO edit your form, whether it be for typo or cheating, or changing the number of the fox you want because it was already taken, IT WILL NOT BE COUNTED. So BE WARNED!
I hate to start getting strict about the rules, but I'm starting to worry that too many people are getting away with cheating. We want it to be fair! Typos and misspellings don't matter to me, they don't need to be fixed.
So if you want a fox, DON'T EDIT YOUR POST!
______________________
If you are given a warning or cheat, you will be given a 3 day suspension from adopting foxes.
People On Suspension
None
Bat-Eared Fox vocabulary:
Batch-
6 random foxes put up for adoption
Litter-
A couple breeding, 2-6 kits
Group-
Adult foxes/parents from breedings put into the pound
BEF-
Bat-Eared Fox
Soon/In A Bit/A Little Bit/Momentarily-
1-45 minutes. It varies.
Another Batch/Litter/Group Tomorrow-
1-7 days. It varies.
BLACKLIST
If you are put on the blacklist, that means you broke three or more rules, or broke the same rule/rules more than once. If you are on the blacklist you can not adopt any adoptables and any adoptable/adoptables you may own perviously will be put up for adoption again in the pound and will no longer be yours. Blacklist now includes links to profiles incase people decide to change their usernames :3
Mintblossom
Husky Horses
1-800-UPYOURS
1324kitteycat1324
LondonTwilight
Users Given Warnings
RainbowSmores
(Miz<3, snowleopard, BluBeagel, and 100 other names)- 1 warning
Fun stuffs
Stampehs 8D

Some buttons by jessicahongphan (thanks!)

Click here
to see me design some BEFs :3
___________