We hope you enjoyed our April Fool's Day silliness yesterday!
After practicing on all those hair models, Totoro graduated hairdressing school! She's made her styling services permanently available with a new free item pack in the Store!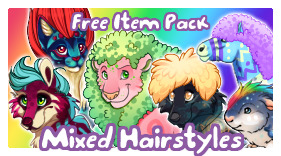 If you want to keep your fierce afrovatar you can now find them in the Avatar gallery (in the "Derp" category) and in the Stamp Collection (in "Holidays & Events> April Fools").

With all the distractions, don't forget to Adopt this month's pets
There are also new pets in the Store, made by Jayfrost

Don't forget to enter this month's Dressup Challenges!

And later this month we will be celebrating CS Birthday and Easter, so remember to check back soon!