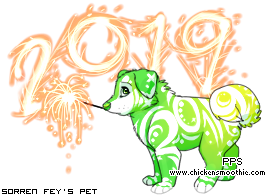 Happy New Year!
Wave goodbye to 2018 and welcome 2019 with some gifts we have prepared for you. Get them on the dog page! They are available for a couple of days only!

Get your pets ready for the holiday and show them off in our New Year Dressup Challenge! Don't forget to check out the other Dressup Challenges aswell though!

And of course, there are new pets to adopt for January!

We've now switched back to our regular green site theme, but if you're still feeling the chill of Winter, you can change back to the "CSChristmas" board theme from your "my account" page.