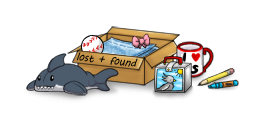 Chicken Smoothie now has a new feature called the "Lost and Found"!

This new feature works just like the Pound, but the Lost and Found gives away items instead of pets! These are items that have been donated to the pound over the years, or confiscated from banned accounts.

Our Pound and the Lost and Found will randomly take turns being open, so our Pound page will now automatically show you whichever one is opening next. Today we'll only be opening the Lost and Found so you can get a chance to try it out!

Check out the new combined Pound and Lost and Found page now to see if it's open!

If you have any unwanted items that you'd like to donate to the Lost and Found to rehome to other players, you can send them in a trade to the new "Lost and Found" account by clicking here, or click the "donate!" button that appears on the Lost and Found's page when it's closed.