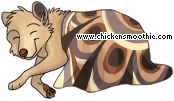 September is the month for our annual all-staff litter! Grab a handful (or a bucket load) of puppies, and dress them up as they grow!
Can you guess which staff member made each staff pet? There are many hopeful detectives in the forum interrogating staff for clues and answers! Share your thoughts in the dress-ups title if you think you've got it figured it out.

You can enter up to 25 pets to this challenge.