Let's celebrate the color salmon-pink, and all things General-Helpery!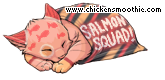 This month our lovely General Helper team have put together a litter themed in their team color, and they've got some more fun planned too...
Show us your best salmon-pink themed dress-ups! And don't forget to show your appreciation for the GH team, who have helped so many of us find our way on Chicken Smoothie!
You can enter up to 10 pets to this challenge.