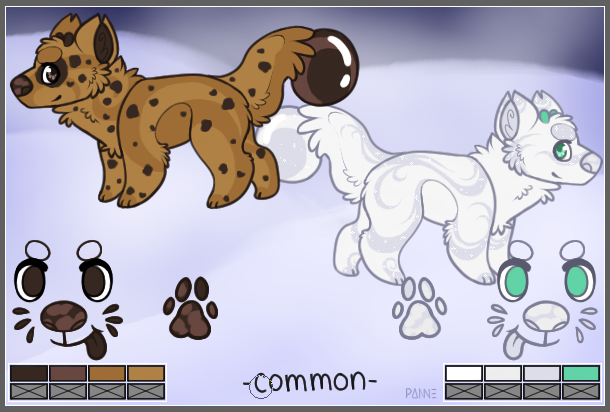 broken?
Totally did not manage to somehow 100% mess up posting an adopt and now must post only a screenshot c:
(um for some reason the first image I had up seems to be broken, not sure why but here is a new one for you)
Aphelios are, simply put, aliens. They resemble canines, but have features typical earth dogs don't have. Two short, stubby antennas sit atop their heads, glowing a brilliant luminescent color. Most Aphelios have split ears and squirrel-like tails. Variations are possible, but rare. Most notably, every Aphelio seems to be magically bonded to an orb, that attaches to its tail in some way. these orbs contain a miniature version of a universe. Each Aphelio is a deity of their own galaxy, planet, or even universe; no one is exactly the same. It's believed they've been around for eons, perhaps before time even existed itself... but who can say? Aphelios are curious, charismatic, and unique creatures, and rarely do they not explore the universe around them. Follow the stars, look ahead, and wait... as the mysteries unfold around you, and maybe even an Aphelio will be curious enough to watch you. Because you are one of billions, what makes you different?
The theme for this one was milk and cookies! (can you tell) I had a lot of fun designing these two <3

End date in one week, Monday December 7th.

Before I go any further, these are a few things that need to stay the same with them;


They are inseparable, one is never without the other.

Got the nickname 'Milk and Cookies' due to their design and how they are always together.
They are PPS and will never grow.


And a few notes about their designs;


Their orb designs are identical, except for the colors.
Both have mottled noses and paws.
The white one has symmetrical markings, and their darker swirl markings shimmer in light.
the brown one has asymmetrical markings, only the right eye has an eye spot, the left does not. Their left ear is also a darker brown than the right. The swirl markings are symmetrical, but the spots are not.
Mottling and spots do not need to be exact, save for the important bits, like the eye spot.


And here is the form, its pretty simple. You may not take off or add things to the form, all of it must be completed in order for your form to count. You may pretty up your form, just keep it legible. Making your form pretty will not affect my decision.



Code: Select all

Names:
Genders:
Something that one loves that the other cannot stand:
Art OR a story:



For the last bit, you may add as much art as you like, but if you add art you may not add a story. If you have a story, you may write about anything you like as long as it includes them. I don't mind reading long stories, but try not to make it a novel. If you are worried about length just ask me.