Oh, I just figured out this exists. I've been wanting to point out some things.
Why are all Nick Chickens (except the one from this Easter) just under Chicken? Or I guess I should be asking why the new one is suddenly under Nick Chickens? I don't understand why they were suddenly separated but the old ones not added under that. I think there should be some consistency whichever way it were to be fixed.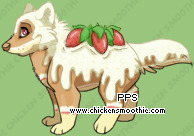 This dog (January 2011) has it's age typed out as this "2011-01-12" instead of by day.
Edit: Another consistency thing I noticed is that some years just have "Valentine's" (2009-2012) while other years have "Valentine's Day" (2013-2019). St. Patrick's Day has always be typed out while April Fool's has always been shorted like that. I just find it a little odd that it's like that.