(Everything I said here is a paragraph my friend wrote. All credit goes to him.)
Warning! Long post!
How Unreleased Jamaaliday Calendar Items Were Hacked In; Proof They Were Never on the Calendar
Kitsoon A
Note: If you need more proof read his first post:
http://animaljam.wikia.com/wiki/Thread:521403#
Part 1 - Proof They Were Never On The Calendar:
Math.random Code
AJ's code viewed with FFdec
Proof4
Me and Cheesy Potatoes on Discord.
"Cheesy Potatoes

" (A friend of mine) found that in the code for all Jamaaliday Calendar clothing items, the variant is decided with "Math.random", this is a piece of code in JavaScript to simply randomly generate something, in this case; the item variant which spawns when opening the gift. AJHQ claims that they're on the Calendar with a very low chance, but a chance as low to the point where there'd be no solid proof whatsoever that they're even obtainable is impossible with a simple "Math.random" script, unless of course other things were added into the empty "()" to give that affect, but alas it is just a simple code to randomly generate giving eqaul chances of spawning to all variants.
Possible Question: So the variants are all programmed to have equal chances, why don't they all have equal chances of being won?
This is because of what's written before the code; "(loc2.colors.length - 1)". The part that says "loc2.colors.length" likely gets the variants ready for spawning. The "-1" part of this code causes one of theses variants to be unable to spawn, by default it is the final variant. This means any Jamaaliday Calendar clothing item using the "-1" is programmed for the final variant to never spawn. And this is in the code for every single Jamaaliday Clothing item.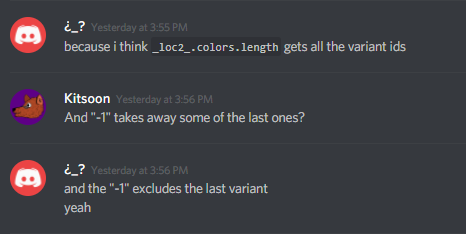 Part 2 - The Hacking Method Cheesy Potatoes Found (How they're made)
If you want to know the hacking method for education, PM me.
I hope i did a good enough job of explaining for people to understand this, i waited until the there weren't any clothing items left on the Calendar for people to hack in, this is so it wouldn't matter.
BTW: This method to hack these items in was discovered on the 10 of December. Also there's an unreleased Holly Wristband, the item can be viewed (Not obtained) with hacking and it has a "Twilight" color scheme.