Finishing a gifting round!
Username: Eleya
Team:
Team Stardust
Round number: #2
Completed round prompts:
@ 8 of Spades:
I just drew an apple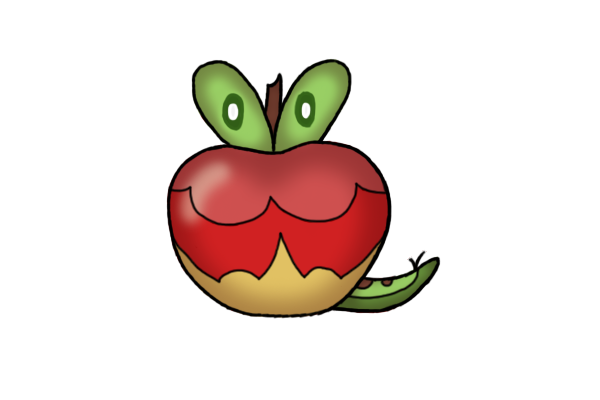 @ ArtisticDragon531: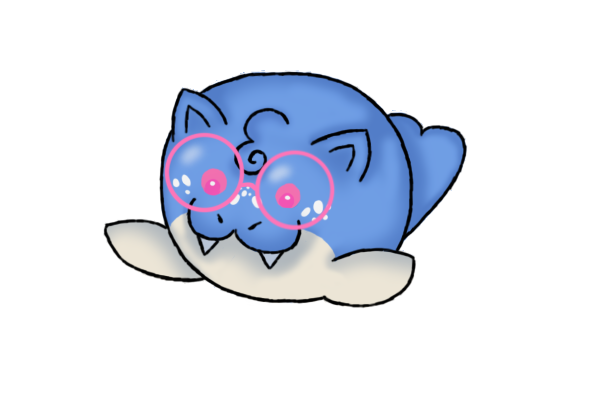 @skwigler: thank you so much for creating this adopt/arpg. I guess we all needed this in our lives. I've missed Pokemon Dungeon a lot, so it means a lot to me. You are doing an amazing job running it and your art style looks so cute on Pokemon. Also with the job board. All those great ideas for new jobs. And don't worry, we are patient. No need to hurry yourself with updating it <3
Finishing an Island prompt!
Username: Eleya
Team:
Team Stardust
Prompt number: #2
Completed prompt:
The Team got greeted by lots of different Pokemon. But somehow they all shared a simmilar colour sheme. Curious little Asha started running around, asking them for reasons. Keerah simply seemed annoyed, and Bucky started smiling and blinking at some girls. Sammy meanwhile was searching for a sign of the Pokemon that called them to the island. Everything seemed so peaceful there. Nothing seemed dangerous or frightening. So why would someone call them here? A bad joke? Or was there something they didn't see at the first glimpse?
Sammy found a path leading into the forest and a little uphill. It seemed to be little used by the Pokemon living on this island. Again, the little Piplup had the strange feeling, that this was exactly the way he had to go. He ran back to the others.
Asha had stopped asking about the colours. The answer had always been the same. "Oh, that has always been like this." Not really satisfying. She now asked around, weather anyone knew about a Pokemon in danger, or someone who might have called for help. Again, answers were disappointing. Never heard, never seen, nothing wrong… That wouldn't help them any further. Quite annoyed, Asha saw Sammy coming towards her. "I tried to get some information from the local Pokemon.", she told him, "but they don't seem to know anything. Neither why they are oddly coloured, nor who could have called for us. They just seem to be happy about so many strangers on their island. They don't seem to have visitors very often." Sammy waited patiently for her to finish, before he needed to tell her about his path. Asha followed him immediately to pick up the other two team members.
Bucky chatted with a bunch of girls. All giggling they were four or five Pokemon around him, seemingly interested in his stories. It took Sammy quite some time to get his friend away from them. Keerah wasn't that hard to find. She had curled up at the edge of the forest, where none of the local Pokemon would annoy her. "A feeling? Again?", she asked, absolutely not convinced, it made any sense to visit that crazy island. Sammy nodded, "I'm sure we have to follow this exact path.
After about one and a half hour of walking, they reached a canyon. A huge river was running through it, and its waters seemed very rough. Bucky discovered an old rope bridge running across it. He put one paw on it to see if it was safe. "It will safely get us to the other side, but we should probably cross it one by one.", he said. As none of his teammates seemed to trust his words, he made the start. Sammy, who was still afraid of hights, was asked to go next. It took Asha a lot of persuasion to get the Piplup stepping on that bridge. "I'm going to die…", he mumbled constantly. When Bucky patted his back, telling him he did great, Sammy hadn't even realised, he was on the other side already. Keerah was next, and while she didn't seem to have any problems, here eyes were fixed on a spot in the forest only she could see. Bucky was sure, she was afraid as well, but shed never let them see.
The last one to cross that old windy rope bridge, was Asha. She wasn't really afraid, and yet it was, who had the most problems. Curious as she was, she was permanently watching the river below her. One of the planks beneath her hooves broke, and she got stuck. Immediately Bucky ran back to her, pulled on her mane, and got her out of that dangerous situation. Breathing heavily, both reached the other side without any bad injuries. Heavily breathing they needed some time to recover first.
"I hope the path will get more comfortable from now on.", Sammy sighed. Bucky and Asha shook off the adrenalin they still felt in their bones. It was about time to carry on. Who knew what else would get into their way?