✉
Ask Chrome And C̵͉̎o̵̬͑m̸͈̏p̷̳̕a̸̫̕n̶̛͔ý̴̗" is wrote:

Active

On Hiatus

<

Experiencing Technical Difficulties

Inactive

Closing

Shut Down
Originally posted on:
Sat Dec 12, 2015 4:38 pm
(Please know that I really

do

want this to be a real ask comic, and that every ask means a lot to me, and that I will do my best to answer them!-LordJeckJeck)
...
Rules wrote:-You can ask as many times as you want, and if you ask enough, Chrome might even address you as a friend!
-Keep in mind to keep all topics kid friendly! This is a kid's site after all!
-Feel free to ask Chrome about his old life.
-You can be as mean or as nice to Chrome as you want. I won't mind, but he will. So just keep in mind that if you ask again, he will probably act afraid.
-RPs in the comments of your ask are fun and welcome!
-You can give Chrome gifts or take things away from him. You can also hit him, but that probably won't end well.
-You can have one of your characters meet Chrome, just please show me a picture and short info post so that I can accurately portray them. Chrome can become friends or foes with your character if you like.
-Please don't be upset if your answer takes a while! I'm doing my best to color in and line every picture.

...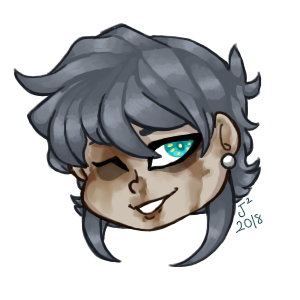 ♂
A tiny cyborg covered in rust. Lives alone in his void. He's here to answer your questions.
He's pretty lonely. Cheer him up by talking to him in a question, a dare, or just some friendly chatter.
STATS:WRITES IN BLACK-MALE-CYBORG-PHYSICALLY 19 YEARS OLD, BUT DOESN'T KNOW HOW LONG HE'S EXISTED FOR-DOESN'T REALLY KNOW IF HE'S DEAD OR ALIVE, JUST THAT HE EXISTS
...
ANNOUNCMENTS/INFORMATION wrote:

-Ask Chrome and Copmany is back after like 3 years!!
-Thanks for 40 likes!
...
(Mostly for me. If you use them, credit me/AskChromeAndCompany please! All images are links to AskChromeAndCompany. Please tell me if any of the coding is off via PM, and I'll fix it as soon as possible.)
Chrome W/ Sign:

Code: Select all

[url=http://www.chickensmoothie.com/Forum/viewtopic.php?t=2901900][img]http://www.chickensmoothie.com/oekaki/image/image.php?id=3101301&size=large&format=png&rev=1522957600[/img][/url]
...
Made by LordJeckJeck (IRBD) with story and character writing help from the lovely
~Tornado~
.