The dawn of the Emberclan had been filled with harsh battles and cold leaf bares.Now that the battles have been fought an Emberclan has been at peace ever since.The clans have deside its time to attack each other. Blood will be shed an life will be lost.Can the four clans find peace with each other or will they slow abandon all hope for the forest?
Cold hungury and alone you come into a clearing with four trees ,none of them are the same type each holding a different meaning.As your stomach growls you quickly scan the area.Rumors have been told of cats that could claw the fur from you r skin in second.But at the moment nothing but food matters to you.Finally a rabbit poked it head out of a burrow.Smiling at your patince you pounce on the creature snapping its neck with a quick bite.A mewl of laughter lets you know another cat is in the clearing with you.Whipping around you see a medium sized she cat.Slowly the true color of her pelt came in to fully bloom a beautiful red orange with golden stripes streaking her back with stars lining her pelt."I am Emberstar."she mewed her voice like the first licks of a flame warm an gental."Do you wish be a warrior an persever the natural order.Be safe and protected by other cats with simlair thoughts and dreams"she asked stepping forward.Nodding you head Emberstar smiled.The bright golden eyes glimmered as she seemed to choose her next words carefully. ."Well pick the path that will lead you to your choice.Every step you take will bring a new out come. " So will you join ember clan rightous an brave? OR Swiftclan Speedy and Relliable?Or DuskClan Cruel and Cold? Mabey StreamClan Cocking and Caring.Make your choice well young ones.With the last words of advice Emberstar turned an walked away ,stars appering on her pelt her tail flicking in a goodbye as her figure slowly disapppered.
Rules
Tess and nicks rules
As many charries as you can handle
keep it pg-14
One high rank per person.
This is open to everyone just write more the one sentence.
Example
Talon pulled her lips back in a cruel snarl.Her tail lashed from side to side as the other cat circled around her.-Bring it-She though watching his every move.
Forbinned love encouraged.
There will be alot of fights with clan cats
Dont talk lke tis(mistypeing is alright)
have fun
Code: Select all

Username
Warrior Name
Clan
Rank
Reference Picture
Please no drawings for it. Try using Flickr.
Pyshical Description
Personality
1-5+ lines again please.
History
Not completely needed. Optional.
One-line Description
NEEDED. Example: Riverpaw - A silver spotted tabby she-cat with sky blue eyes. Like the descriptions in the beginning of the Warriors Books.
Kin:
Crush
Mate

Example How to fill out Form
Warrior Name
Riverpaw
Clan
Streamclan
Rank
Apprentice
Reference Picture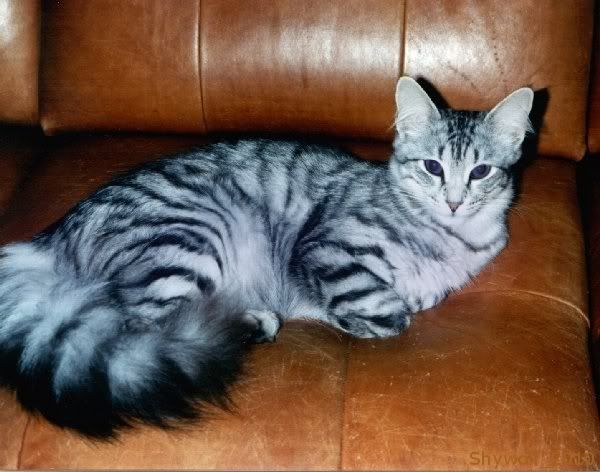 Pyshical Description
riverpaw is a speckled silver tabby.the spots give her the apperance of a leopard with the mix of the pure silver fur the flash of a silverfish.Her muscles are as well defined as they could be but that is only because she is still young.Her tail is soft an fluffy.It gose against the short fur of every other part of her.She takes everything in with her light blue eyes
Personality
riverpaw is a loyal cat .She will always do what she believes is best for her clan.Though sometimes she will get into trouble she will back down an do what she has to ,to fix it.her heart is clear as her mind.She loves playing with other young cat an kits riverpaw will do her job.
History
she was borned an raised in Waveclan.Sometimes she believed she scented things that other couldn't.She use to think that she was dreaming about this things but shes put it at the back of her mind.Her mother Ripplepelt died a few moons before she was made an Apprentice.She thinks about her mother all the time but it gives her hope to be a better Apprentice an later a better warrior.
One-line Description
riverpaw~ a silver spotted tabby with sky blue eyes
Crush
open
Mate
open
````````````````````````````````````````
Toms
Shecats
EmberClan
(ThunderClan)
Leader
FrostStar
=is a snow white she-cat with beautiful green eyes.
Deputy
Open
Medicine Cat
Open
Medicine Cat Apprentice
Open
Warriors
Darkflower
=Black she-cat with dark blue eyes.
Lightningstripe
=Flame-colored tabby tom with jagged golden stripes that resemble lightning with Bright green eyes.
RobinFeather
=a tom with white fur and brown/gray color on his face and back ringlets curl around his fluffy tail.
StoneBlade
=A dark grey striped tom with pale green eyes.
Jackalpelt
- a shecat with a wildcat pelt.colors of brown tans and black.Her eyes are a pale green.
Blizzardfrost-
A grey an white splatter she cat with aqua green blue eyes.
Apprentices
Coalpaw=(CoalFrost)
A coal black she cat with frost blue eyes
Demonpaw=(DemonFire)
a pure black she cat with blood red eyes
Blazepaw=(BlazeWing)
She is a fuffy orange reddish Asyssain with bright yellow eyes
Scorchpaw=(Scorchpelt)
A dark ginger she with four white paws an dark eyes
Queens
None
Kits
None
Elders
None
SwiftClan
(WindClan)
Leader
Brackenstar
=Long-furred pale red tom with yellow eyes
Deputy
HawkFire
=a rustly long hair tigertabby shecat with evergreen eyes.
Medicine Cat
Open
Medicine Cat Apprentice
Open
Warriors
BrambleHead
=Brown tabby she-cat with green eyes
Stormclaw=
solid grey she cat with forget me not blue eyes
Spitfire
=A dark leapard she cat with golden-brown eyes
SkyBreeze
=A large muscled maine coon she with yellowish green eyes
Apprentices
Featherpaw-(FeatherTail)
A silver leopard she-cat with pale blue eyes.
dawnpaw=(DawnBlaze)
she is a pale oragen she cat with a swirl patter and blue eyes.
Sapphirepaw=(SapphireHeart)
a black an white she cat with sapphire blue eyes
Mangopaw=(MangoLeaf)
A colorful calieo with light brown eyes
Queens
None
Kits
Coyotekit
= light brown with darker brown paws also he has one black ear and amber eyes.
Elders
None
DuskClan
(Shadowclan)
Leader
Moonstar
- Light gray strong tom, withdeep blue eyes and white paws.
Deputy
LeafSplash
=white Tom with blak tabby stripes,he has ice-blue eyes.
Medicine Cat
open
Medicine Cat Apprentice
Open
Warriors
FallenDeath=
A massive black and white tom with pale green eyes.
DeathFeather
A pure black she cat with Bright green eyes
nightslash
= a pure black she cat with orange eyes
Greythorn
=she is a grey she tabby she cat with pale grey eyes an a tan underbelly.
EchoFire
=A light brown tabby she with golden yellow eyes and white paws
WillowHeart
=She is a lean rusty red abyssain she cat with green eyes
Apprentices
Sparrowpaw=(SparrowFlight)
a dark calieo with dark brow tan and black fur a white belly an chest.Hazel eyed she cat
Mottledpaw-(MottledScar)
=a calico she with dark green eyes
Talonpaw(TalonFang)
=A grey/silver tom cat with jagaur spots and a few stripes with pretty blue eyes.
Dashpaw(DashFlight)
=A young black white and grey tom with pale yellow eyes.
Queens
None
Kits
none
Elders
None
StreamClan
(riverclan)
Leader
SeedStar
=Dark brown tabby tom with light green eyes
Deputy
Moonflight
=Very, very pale gray long-furred she-cat with Black, crescent-shaped stripes and bright, sparkling indigo eyes.
Medicine Cat
Littleleaf
= to be finshed
Medicine Cat Apprentice
Open
Warriors
Splashgaze
=A [dark] Calico she-cat with deep and mysterious yellow eyes
Brairclaw
=Small brown tom with light green eyes.
Pebbleclaw
=Smoke looked tom with large blue eyes.
Dusktail
= inky black she cat with a long fluffy tail and hazel eyes
Spottedrocks
=light grey mixed with brown fur leopard she cat with brown eyes.
SpeckledStream
= a light golden brown she cat with leopard spots, also her eyes are a pale yellow.
RainTatters
=A grey white maine coon with stormy grey eyes
Apprentices
Riverpaw(RiverTail)~
a silver spotted tabby with sky blue eyes
Cherrypaw(CherryBlaze)=
A pretty caileo she with one eye light green and the other light blue.
Scarletpaw-(ScarletRain)
A ginger tabby she with light grey eyes
Queens
None
Kits
None
Elders
None
Crushes(->tom likes she. <- she like tom. <-> like each other
Forbinned Love(TomXshecat)
LeafSplash
X
SplashGaze
Mates(tom =she)
Seedstar
=
Spottedrocks