So, I was thinking about the currently offered themes. There's event themes, a "boring" theme that's in greyscale, a mobile theme.. But that's it. Why not add in more themes? Yes people can use the currently offered ones, but I'm getting a bit tired of having to use just the Squid one, or just the Halloween one because I prefer darker colored themes, and the bright green default one tends to hurt my eyes ( As I do enjoy playing in the dark ) . Some differently colored ones, perhaps even themed off of popular pets here, would be a nice thing.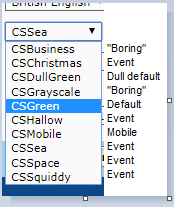 It's mainly just event themes, which are fun.. but you already see them every year, there's nothing new
Possible themes could be :
-Pastel colors
-Pride colors ( Or just them in general, since there's so many )
-Deep colors
-Nighttime / dark colors
-Rainbows
-Seasons ( Summer, spring, fall, winter, etc )
-Staff favorite colors
-Based off of popular pets ( Sunback, for the example, it could be lots of oranges and cream colors )
-Based off of staff favorite Animals
Something that isn't just event and that isn't eye harming bright when you are someone like me who enjoys playing in the dark. I understand it would be difficult, but I think this would be a very neat thing!
Apologies if this isn't the right spot for this, I didn't see anywhere would I could suggest something like this in a permanent thread, so I figured it's fine in it's own thread