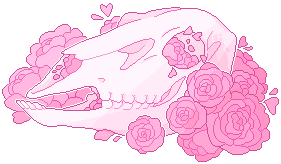 The clouds roil overhead, dark, gray, and heavy. You steadily avoid the puddles that pool on the dull sidewalk, dancing from puddle to puddle with unhurried footsteps. You're downtown, an area you haven't really been to before. It's a shame that the day you decided to explore the hidden treasures of the area is the day it decided to rain. Oh well, it's been holding off for a couple hours now, and you swear you've seen the sun peak it's bright face between the clouds occasionally. Despite the weather, most of the stores you've passed have been open, and you've ducked inside and looked around for a while before buying something or leaving.

A drop of rain hits your nose, and you bundle your coat closer to your chest, flipping your hood up to protect you a bit from the rain you know is about to start. Great. Why didn't you bring an umbrella? Just as the skies open up and the rain pours with a vengeance, you stumble across a strange building you had no idea was here. With a drab outside and basically nothing to show what it is, all you can spy is a sign that says "Viper's Bite Adoption Center".



You enter.



The interior tells you even less about the building. You're in some sort of sitting room, with comfortable looking chairs to your right and a desk to your left. The desk is empty but you head over anyway, eyes scanning around the room once again. You notice a heavy looking wooden door, and—other than the entrance—it's the only doorway you can see. Someone backs through it, yelling something behind them. You hear laughter and the person shakes their head with an eye roll, turning your way and freezing when they see you. They wear a uniform with the place's name on pocket.

"Oh, hi! I didn't hear you come in! Can I help you?"

You say you were just ducking in to avoid the rain, but ask what the place is anyway, and the worker's eyes light up. "I'm so glad you asked! I know there isn't much out side, we just moved into the building and we're working on making it more unique, but we're an adoption center. We have some creatures, big and small, that are waiting for homes, good homes. They're completely free."

You've been wanting a friend. You say as much in an offhand comment, and the worker smiles.

"

Follow me.

"

[ Welcome ]
[ Rules ]
[ Donations ]
[ Forms ]
[ Staff ]
[ Affiliates ]