Long ago, an ancient species roamed our world.
Named Florfaunas, they blurred the line between plant and animal, and each one had a plant species that they nurtured and protected.





But one year, during a great winter storm, they disappeared.
They did not return in the spring, and although many people searched far and wide, not a single trace of them could be found.





Seasons came and went, and the Florfauna territories that were once so lush became desolate and empty as their flowers wilted, some species even reaching the brink of extinction without their guardians. Some humans thought that the Florfaunas had died out in the extreme cold, while others thought that they had migrated to warmer lands. A few even suggested that they had retreated into hidden burrows and entered a deep state of hibernation, waiting for a time when they could survive with ease.


For a very, very long time, nobody knew what became of these beautiful creatures.


Until today, that is.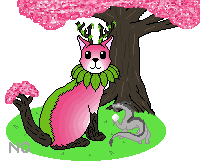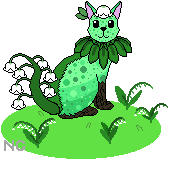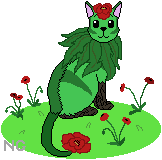 "Lupus", Dogwood Tree, owned by ZoltCat. Unnamed, Lily Of The Valley (Gen 2 Mascot), owned by Mifs. "Aster", Common Poppy (Gen 1 Mascot), owned by NinjaGerbil.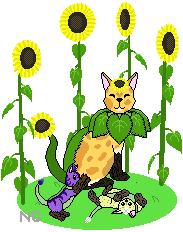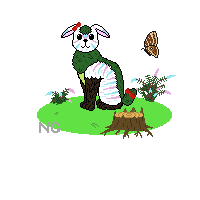 "Solstice", Common Sunflower (Nursery NPC), owned by NinjaGerbil. Unnamed, Buddleja/Butterfly Bush, owned by NinjaGerbil.
After so long, our leafy friends have returned- but it seems they have evolved during their time away!
Join the world of Florfaunas, and see what these beautiful animals have to offer:

- Each Florfauna is based off of a plant species; and is released with trivia about that plant. With everything from the largest redwood pine to the tiniest clover patch, you can be sure to find a Florfauna that's right for you!

- Pick from four different subtypes; small plants, bushes, trees and water plants, each one with linearts for egg, young and adult stages

- "Nursery" System: Watch future raffle litters grow and develop in the Nursery, ensuring you can watch the species progress and know when and where to check into the thread!

- Explore system: visit different locations and biomes around the world to find items, decorations and miniature pets. Meet wild Florfaunas and try out a range of options and actions to befriend them




- Decorations aplenty: customise your Florfauna's garden, and dress up your pet with accessories- have your pet fit in with your signature's aesthetic, or mix and match to find a design you like

- Mutations, hybrids and crossbreeding: watch your pets' offspring grow and blossom... wait, does that one have two tails, or am I seeing double?

- Check out events for a chance to win special Florfaunas, including subtypes not previously seen before, and win items you can't get anywhere else
The Florfaunas can't wait to find new homes, so keep an eye out for the upcoming thread- it will be made once I am certain that there is enough people interested in them!

If you're not sure if you'd be interested, watch this space as more example Florfaunas and items will be added shortly.
If you have any questions or concerns, please don't hesitate to PM me!

Please make sure to answer the poll or leave a comment; feedback is highly appreciated!

Hope to see you all soon!