Sami: The Chicken Smoothie Ethologist
Table of Contents
Chapter 1: The Stray Kitten
Chapter 2: Etho-

what?
Chapter 3: The Banishment of the People
Chapter 4: No Humans Allowed
Chapter 5: Did Someone Say Cat Treats?
Chapter 6: A Change of Plans
Chapter 7: No Time to Argue
Chapter 1: The Stray Kitten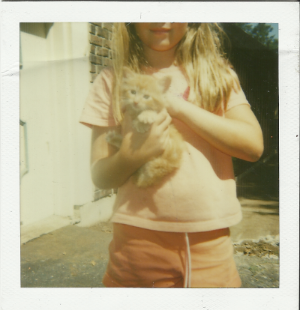 Sami and The Kitten
Samantha Jones, age 8, crawled through the bushes on her hands and knees. Her binoculars hung on a cord around her neck, bouncing against her legs. Her brown hair tangled with branches and her hands scratched against falling twigs. She didn't stop for anything. An orange cat tail had made an appearance from behind these bushes, and there was no question about it. Sami was going to find that cat.
Meow
, called the cat. Then
meow!
again.
That was funny. Sami had followed lots of cats, and even caught one or two, but usually they just scratched her and ran away. This one sounded like it was crying.
Mraw? mraw? meow!
The cat's mews were louder now, and it didn't stop. Sami was sure the cat was in trouble. She crawled as fast as she could.
"I'm coming!" Sami called. "I'm coming to help you. I'm a friend, okay? So you just have to wait, okay?"
Meow?
said the cat.
MRAW!
On the other side of the bushes was a huge forest of trees, with thick plants crowding the ground. A tiny opening between two bushes was just big enough for a cat-- or a small, brave girl. Sami pushed the branches aside as best she could and squeezed through.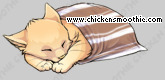 The crying cat was a tiny orange creature with a faint M on its forehead. It pulled and tugged at a prickly branch and mewed loudly at Sami.
"I'm coming to help you, so be nice!" Sami said, and inched forward carefully. The kitten's whole arm was stuck between a tangle of prickly vines. Its claws were sunk into the branch of the bush.
Hissssss
, said the kitten when Sami got close.
"I said be nice," Sami scolded gently. She reached for the cat slowly.
The cat swiped at her arm.
"Ow!" Sami cried. "I'm trying to help you!"
The cat wasn't listening, but Sami had a solution. She sat up and dug in her pockets. She pulled out a dollar bill, a paperclip, a notepad with a purple pen, and just what she was looking for-- cat treats! She quickly pulled one out of the little bag.
The kitten with the M on its forehead sat up and perked its ears, nose twitching. Sami leaned forward. The cat sniffed the treat, then snatched it up. One gulp and the treat was gone.
"If you let me help you, I'll give you more," Sami said. The kitten didn't seem to hear her, but when Sami reached close again, there was no scratching. Sami pushed the vine carefully away, untangling it and pushing gently on the kitten's claws so it would let go. Almost... nearly... the cat was free!
Sami was sure the cat would run away, but instead it crept closer to Sami. As promised, Sami pulled another treat from her pocket and gave it to the cat. A rumbling began in the cat's belly.
Purrrrrr
, said the kitten, and it snuggled up close. Sami grinned.
A minute later, the cat ran off. "Wait up!" Sami cried after it. "Where are you going? Why did you leave?"
Sami ran through the trees, but stopped suddenly right in her tracks. The cat had stopped at the top of the hill ahead, but that wasn't what she was looking at anymore. Everything was different on this side of the trees, like nowhere she had ever been. The realization of what just happened hit her and she gasped. Sami had found a whole new world.