Hey guys <33 I hope you're doing well! Please remember to get a snack and a drink, and take your meds before bed! Also, double check your schedule for tomorrow just in case you have plans that may have slipped your mind! C: Have a good night <33
Also, I'm sorry if my post seems off from normal - I'm in kind of a weird melancholic mood right now that I can't seem to find the source for... I'm also trying to get into a school, and switch computers, and readjust to life, and trying to
figure out
life, and ugh, just too much thinking.. If you want to send a funny meme, a good story/joke, how your day was, a cute Kalon, anything, that would be cool <33 Just something to get me distracted would be so, so appreciated ;v;
With that being said, just a small post today, haha <33
I forgot to show you guys these beans I commissioned from
Sandstorm814
! 0: Aren't they the cutest??
Also, my beautiful boy Pine from
SticksandStones
,
Also this avatar by
Midnightkitkat
~
Also!! These human sprites of Dr.Reagan by
Butter Dragon
So yeah!! I just wanted to show this beautiful art from some cool artists, since I never got a chance to share!
And finally, Cinnamon is all grown up!! ;v; They grow up so fast <33 KatLove did it for me, and I am honestly wowed?? They did a phenomenal job !!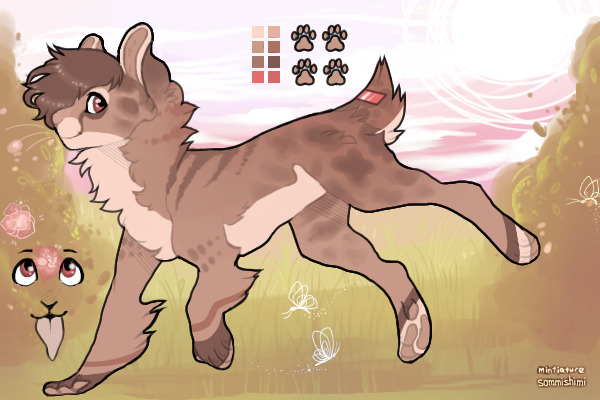 Edit;;
My computer is all good ! ;v; I would love to do some art trades as well!! Please PM me so we can discuss <33 Even if you do traditional art! 0:
Code: Select all

Replies;;

@benjeep - Oh, that Kalon is beautiful!! I love the ears, and the antlers look stunning. Good job on that design, and making it look beautiful !! 0: I love all the inspirations that went into it, too, and I just know it's going to be a great personality you develop as well <33 I can't wait to see more of this cutie around the fanclub, especially with his mate!! <33 Such a cool story already! I also hope you get some good offers on your kit :0c They're very cute, so I'm sure you won't have too many problems, lol <33

@VoidRinkusu - I'm so, so, so happy to hear more of your AU! It's such a cool story, and I am so excited to see more pieces coming together <33 I'm excited to hear more about these royal guard / pirate Kalons, and their laser cannons. What other technology is in this world? What are the limits on it? 0: Also, PLEASE show us some of those fancy coats!! I'm sure your Kalons look dashing in them <33 I also like what you have going with the powers and the god. That is a really interesting concept that I'd like to see more of as well 0: If you ever get that D&D style RP going, please let me know! I would be first in line, lol. I will definitely have to PM you about seeing if any of my Kalons could fit into the crew or kingdom. I might have some good fits for you ;0c Finally, good luck on obtaining that item! <33

@ThatPinkThing - Hello!! I'm glad it's a quiet day for you, and that you could stop by - it's always nice seeing you around !! <33 And oh my goodness, good luck with those chores, lol ! You got this ! Also, your headshot trade offer sounds awfully cool :0c I need to check and see if my tablet connected correctly... ugh. Otherwise, I would totally hit you up on that offer, especially for drawing Zander! That Kalon is drop dead gorgeous, and such a sweet kid <33 I love those colors and edits!! Good luck on getting some cool trades!! <33

@~Soul~ - Welcome back !! I'm so sorry you went through so much, but am equally glad that everything is looking up for you now <33 You got this, and I'm happy to hear you have new and positive things in your life to help you conquer it !! Also, oh my gosh, never apologize for long posts - it's always cool to hear that someone has lots to share!! <33 Oh! I hope you get some help for your kiddos soon, and some good relationships! I don't think any of my single Kalons fit very well, or else I would definitely PM you, lol! You have such cool Kalons, with such varying personalities!! 0: I really love it, and hope you find some super cute couples!!

@_silentsiren_ - Oh my gosh, I so wish I had Kalons to trade!! Those kids are both STUNNING, especially the sweet midnight child ! <33 I hope you find some beautiful Kalons to trade for that you really connect with, and who fit into your Kal's canon <33 Also, i'd love to see what you'd do with an Unlimited Rare MYO :0c I'm sure the Kalon you'd create would be beautiful <33 And ah, I'm glad you're back as well!! Breaks are always good, and I'm glad it could help you to feel better <33 I'm also doubly glad your heart brought you back here - you are such a big part of the community, I couldn't imagine it without you !! Also, Ace is precious, and I want to see way more of him lol <33 What a cutiepie! Those eyes?? And that halo ?? A true angel <33 Also, thank you for your reminder - I need to do all those things!!

@iBrevity - Good luck getting those transfers and growths done !! 0: I hope you find someone soon, and I wish I could help but I have 0 idea of how Oekaki works yet :") It's still quite a mystery to me, lol ! I'd love to see those guys when they're all transfered/grown, too - I bet they're going to be phenomenal !! 0: And yoo, I hope you had a good day at work <33

@kanadensis - Hello! I am so sorry to hear exams are stressing you out ! 0": Just know that you can destroy them, and we are cheering you on!! You got this !!!! <33 Also, all your new Kalons are lovely :0c I especially love your little forest spirit who visits witches - what a sweet idea!! It's such a cute and gentle looking kit, too, so I can't wait to hear more of that development, especially with her history and more of what she is like <33 I'm sure that's going to be super cool !! Also, the siblings !! They really do contrast eachother very well, and I would love to hear more of their sibling rivalry!! 0: With such powerful looking Kalons, I'm sure it's hecka interesting! Also, yes, that wing edit would be perfect <33 They really do look like an angel! Maybe for names for those two, you can be inspired by angel names?? Like, a Gabrielle, perhaps, for the left kid?? I hope you also find some good trades - I'm in love with your dear unicorn child, but I have nothing ;v; So I hope you find some awesome homes for them!! <3 And I hope you have a lovely week, too!

@Meridiem - Listen, you got this! I understand exactly where you're at, so I want you to know what helps the most - just step back, take a deep breath, and break it down into what's the worst/best that can happen. Best? You pass with flying colors. Worse? A tiger breaks in halfway through the exam and eats your final, meaning you have to retake it. Make sure the worst is the silliest outcome, and even if there IS a chance you don't get a high score, know that that's okay! Most teachers are really cool and are happy to help <33 Also, I really wish I was there to help you with stress baking, because friend, I want to stress eat and we would make a dangerous team lol! But in all honesty, brownies sound so good :"0 But yeah, so know you'll do great, we're cheering you on, and you'll have lots of brownies to celebrate your success with <33