Posts: 820
Joined: Sat Dec 07, 2013 7:38 am
---
Posts: 2117
Joined: Tue Jan 10, 2017 5:21 pm
---
Posts: 196
Joined: Tue Jun 18, 2019 5:33 am
---
Posts: 214
Joined: Wed Aug 24, 2011 8:52 am
---
Posts: 450
Joined: Fri Jan 09, 2015 12:15 pm
---
Bump
Mods please don't ban my account or my sister's who's Rex6201 and samy6201 we're sister's sometimes we trade unfairly with each other.
Click These Pets To Help Them Grow!
Pet's name:
The Plague Doctor
My Flight Rising
My Chicken Smoothie Pet Blog
Posts: 1695
Joined: Sat Mar 09, 2013 12:44 pm
---
bump
"We are like birds of a feather,
We are two hearts thrown together,
We will be forever as one,
My brother under the sun."
Posts: 42
Joined: Fri Jun 28, 2019 9:57 am
---
Bump!
___________________________________________________________
~Hello~

She/Her
Loves: Music, Nature, Fennec Foxes
I have 3 cats: Max, Azalea, and Willow
I am a very friendly person and love helping people!
___________________________________________________________
___________________________________________________________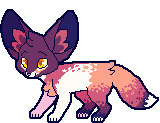 -I Am Collecting All Fennec Foxes So Feel Free To Trade Me-
Posts: 483
Joined: Tue Dec 19, 2017 7:10 am
---
Posts: 244
Joined: Sat Aug 31, 2019 9:51 am
---
Posts: 145
Joined: Wed Jul 03, 2019 1:45 pm
---
Who is online
Users browsing this forum: aliceepaws, Dogian, fasterfantastic, popstar909, rosealistic, Thunder Point and 4 guests