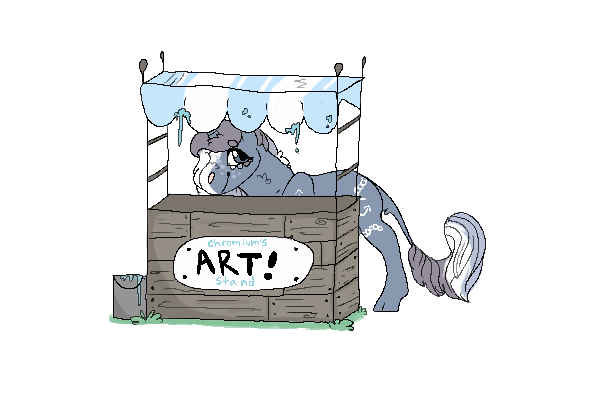 Oh Hello! I didn't see you there, but Welcome to my art shop anyways! Don't Mind the mess will you? Its a bit troublesome to scrub the paint off the ceiling, hope you don't mind if a drop or two hits you.....
~----------~
Hey everybody long time no see huh? Well I've decided to open this thing back up for a bit HOWEVER this time there's going to be some different rules just for this event. Head down to the bottom of the page for events for more information!
Rules
No whining
Be fair
Be courteous
Be patient
No badgering for art
Be happy
Have fun
~----------~
1.
Status:
2.
Status:
3.
Status:
Prices and examples: Coming Soon
Examples
1.
2.
3.
4.
5.
For more examples Head to my Gallery!
What Can I Do?
* Headshots
* Full Body
* Some Backgrounds (Minimal, Refined)
* Sketches
* Avatars
* Tryout art (depends)
* Flat Color
* Flat Shading
* Static Pose
* Dynamic Pose (Depends)
* Equines (Main)
*Wolves/ Dogs
*Cats
*Deer
*Dragons
* Most other Creatures
* I CANNOT do humans or anthros, sorry
~----------~
> I have no set prices, I usually mold them to what the commissioner Can pay and What they feel the piece is worth, however this does not mean you can give me a 2016 common when I can see you have a large amount of pets on my wish list, if you want free art keep on the lookout for my giveaways :>
> I Do accept art trades for payment as well.
>
Easter event pets are priority atm so it would be great for some of those off my wishlist :>
Thinking of an art trade
?
For Art trades I'm not that picky on your skill, much like traditional payments. But if you want to go this route I have a couple of different Characters that can be used in your drawings.
Character List: Ref's coming Soon
Chromium Anchor (Equine)
Ryder "Berkhum" Lewis (kalon)
Sirius (Wind Reaper, dragon)
Mako "Beautiful Disaster" (Deusch Mule)
Tyrone (Deer)
Baseline(Equine)
Benny(dragonoid)
Smudge (equine)
Stark Contrast (equine)
Luna And Rarity(MLP)
Unnamed character (jackal)
Mercedes (tiger shark anthro)
I have more if these are not your cup of tea!
Optional Form
Code: Select all

UserName:
What Do you want?
Backgound?
Want a transparent Version?
Payment?
Anything else?


GiveAway Status: GOING ON NOW
2017 fall giveaway event!
I'm offering free commissions to a total of 5 people and it's first come first serve. First 3 who send me a pm with all of thier information can have a flat full body with no background, the last two can claim a flat headshot with no back ground. Rules for the event are below!
Rules:
First come first serve to the first 5 people.
First 3 get flat color full body's and no bg
Final 2 get flat colored headshot with no bg
SEND A PM with your information, then please post back here saying you have claimed a spot
These might be a little slow getting out, i been quite busy lately
3 flat fullbodysare claimed!
2 headshots are still available
I'll keep the progress page on this post so if you have a spot check back here to see it's progress!
Full:
Username: Schuyler progress: finished (gallery)
Username: Fiery Gatoh progress: finished
Username: Paints progress: Reserved
Headshot:
Username: progress:
Username: progress:
~----------~

~----------~
°•~ARCHIVE~•°
nat13(giftart):
•~xXx~•