We've just made a BIG update to our rarity system which will affect the rarity labels on most pets.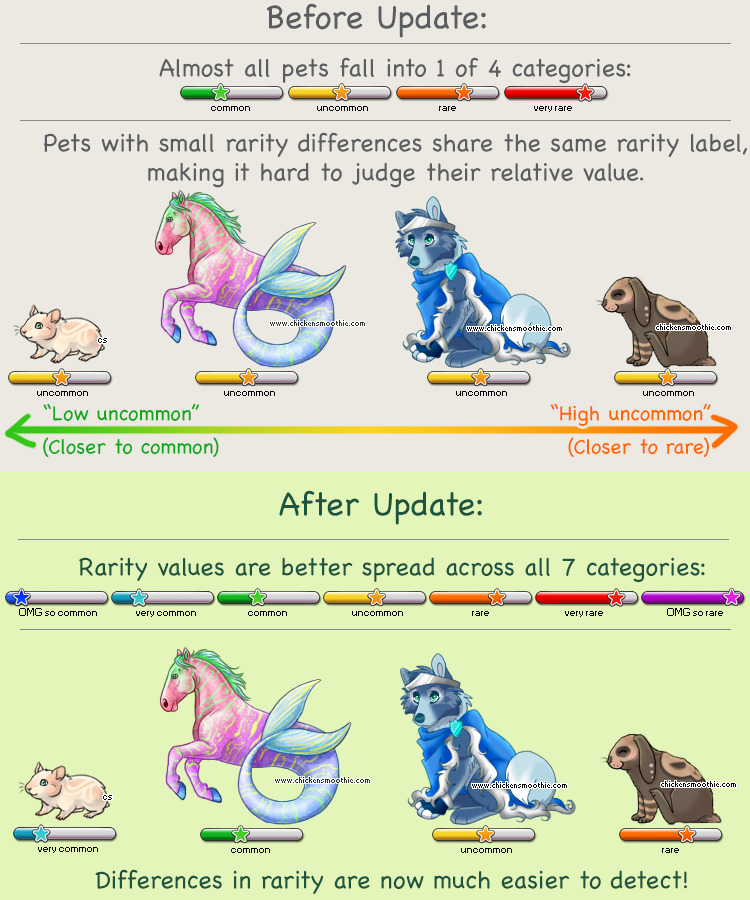 How rarity works:
We calculate rarity scores for each pet by measuring how many are owned by active accounts. If a particular pet exists on almost all accounts then we'd consider that pretty common. If only a few users own it, then it's pretty rare. We group pets of similar rarity values into a label such as "Very Common" or "Rare".
Update: Improvements to the spread of rarity labels:
Over the years, pets have slowly bunched up into 4 main rarity categories: common, uncommon, rare, and very rare. With just a few labels in use, it's extra hard to tell the difference between pets. For example, all uncommons
look
equal in rarity, but some uncommons are closer to the border of becoming "rare", while others are closer to the border of being considered "common".
We have now made changes to help give pets a more even spread across all 7 rarity labels. This makes small rarity differences easier to see, as the range of "high" vs "low" within each label is smaller. In order to improve the spread, pets that were at the borderlines of each category have moved up or down. There are now fewer pets bunched up in the middle of the rarity range. We didn't change their rarities to do this, we just made it easier to see the actual differences in rarity by adjusting how the labels are applied to a range of rarity values.
Update: Adjustments for inactive users
We've just done a big recount of our active users to get a more accurate estimate of pet rarity. We don't count inactive users as their pets aren't available for current users to trade/collect. This recount will push some older pets up in rarity, and some newer pets down in rarity.
Update: Adjustments for Dec 18th re-release
Last year we re-released a bunch of old rare+ pets in our Dec 18th giveaway. This has a small effect, causing those re-released pets to decrease in rarity.
Effects of the update:
All these adjustments will have different effects on different pets. There will be a lot of shuffling, with some appearing to go up in rarity and some appearing to go down. It will take some time to get used to all the changes, but in the long term it should make trading a bit easier, and we hope you will enjoy the more accurate information given by the updated rarity labels.
Don't forget everyone's pets were affected equally, so your pet collection isn't worth more or less than it was before!