Welcome! Events Past and Present, Monthlies, All Manner of Pets! Stock Up On Missed Outcomes!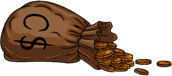 Name your price! General guideline per ten pets:

10 common/belows = 3C$
10 rarities mix = 6C$
10 uncommons = 10C$

Prices totally negotiable! Mix and match rarities!

Sorry if I decline your offer, though this is unlikely as long as you keep it fair.

Sometimes many people trade me at once and I don't always manage to attend to each one, if your trade gets accidentally not responded to, I apologise for this in advance.