Horse Eden Eventing is a online horse SIM game focused on Eventing, that is free to join. Train, breed, and show your virtual horses in dressage, show jumping, and cross country. Your horses are only half the equation though! To succeed you need to hire and train up riders. We feature a realistic show system. The perfect combination of horse and rider can climb to the top and enter Championship competitions with year-end Awards. The best of the best can reach International level and compete in the Horse Eden World Games.

Our horses have advanced color genetics and inheritable traits that are passed down to their offspring. Play on your own, or form a team with other members. Take your horses and riders on trail rides to relax, enroll in specialty training clinics, or host your own shows and auctions. Build your stable by adding barns, pastures, arenas, and crop fields.

Our friendly equine community is tops! Make new friends who share a passion for horses. From our active forum to our thriving Roleplay community, you'll build friendships that can last a lifetime. Engaging strategic gameplay and social interactive fun will keep you entertained for hours. Ride on!

Game Stats
Active Stables: 14931 amazing people
Eventing Horses: 469327 top notch athletes
Dressage Horses: 36587 dancing mounts
Cross Country Horses: 51688 daredevils
Jumping Horses: 32146 winged steeds
Auctions In-Progress: 71 bargains
Shows Today: 1878 tough competitions
Horses Born Today: 3121 bouncing foals
This game is awesome! Horses are very realistic looking and have different images for different breeds! Also horses aren't just black, brown, white either! There's Appaloosa, Splash White, Tobiano, Silver, Buckskin, Sabino, Pearl and so much more! You can capture wild horses or buy from top breeders/great pedigree horses. Also you can earn ribbons and medals for your own stable which will be ranked based on how many ribbons you earn! You can buy tons of barns or pastures for your horses and even grow crops, grain, hay or have a memorial garden. There is quests you can do to earn money and games on there. (I enjoy jousting and occasionally racing my horses against others!) There is an auction house to auction your horses too or just sell them/private sale. Lots to do in this game and if your interested in horses and showing/breeding then this is the game for you! Not to mention there's a forum as well as roleplaying, very helpful community.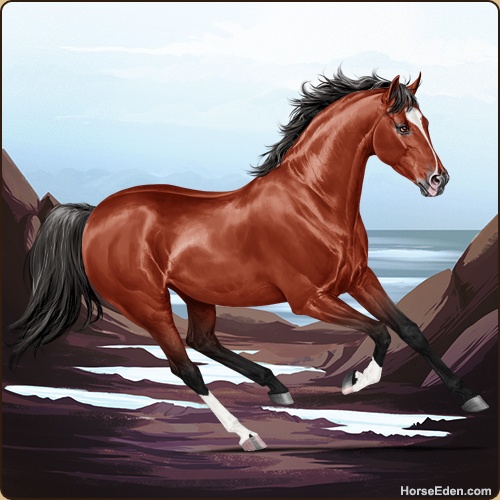 The game has nine breeds: Warmbloods, Thoroughbreds, Irish Draught Horses, Irish Sport Horses, Knabstruppers, Anglo Arabians, Appendix Quarter Horses, Sport Horses and Sport Ponies. Down below are some horses of mine. I breed TBs and currently contemplating on adding WBs!
All these images belong to Horse Eden Eventing and the artists who made them
.