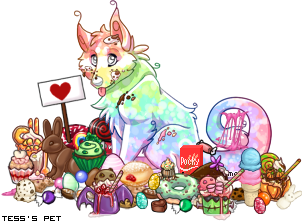 | | |
| --- | --- |
| Category | "Eat what you want!" |
| Items used | 52 |
| 53 people like this | Log in to vote for this dressup |
Admin
Posts: 14262
Joined: Wed Jun 11, 2008 3:28 pm
---
This is making me hungry O_O
blu | they/she | dA | my charries | my stupid blog
need help? | newbie guide | must-reads for newbies


hello! i'm blu, your average lesbian artist
who likes old stuff from the late 90s and
early 2000s.
feel free to ask me about using the site, fair trades, or
just to chat. i'd love to just talk about older digital art.

i'm going through some tough times right now, replies may be delayed.

my b-day is on october 2nd! c:
my art shop!
Posts: 6168
Joined: Sun Dec 18, 2016 1:04 pm
---
Who is online
Users browsing this forum: No registered users and 1 guest