~Who I am~ wrote:Username: ~Who I am~
Dog name: Kretari
Reff: A black wolf with gray underbelly,white front paws,black back paws,white tips on both ears,red eyes and blue fire mane.
gender: Female
Do you want a pic of it?
Is so. Wich size?:
other: Sorry I asked for so much...
Code: Select all

[url=http://www.chickensmoothie.com/Forum/viewtopic.php?f=52&t=1086410][img]http://www.chickensmoothie.com/oekaki/image/image.php?id=903367&size=large&format=auto&rev=2[/img][/url]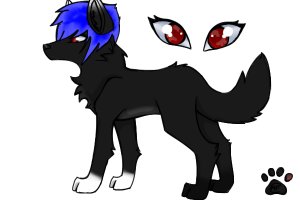 Code: Select all

[url=http://www.chickensmoothie.com/Forum/viewtopic.php?f=52&t=1086410][img]http://www.chickensmoothie.com/oekaki/image/image.php?id=903367&size=medium&format=auto&rev=2[/img][/url]

Code: Select all

[url=http://www.chickensmoothie.com/Forum/viewtopic.php?f=52&t=1086410][img]http://www.chickensmoothie.com/oekaki/image/image.php?id=903367&size=small&format=auto&rev=2[/img][/url]