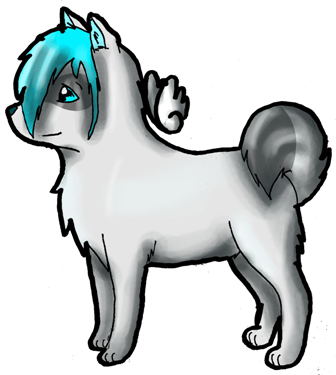 Welcome to my shop! I hope to be ableto draw you WONDERFUL fursona's and characters!!
"WELCOME!" you hear behind you. You turn to see a grey wolf.
"My name is Frostbite! Welcome to our shop!"
She leads you over to a room with two wolves. "This is the lobby. Meet the animals that will be helping you!" She points to a blue, white and peach wolf that is waving so hard it looks like her arm will come off. "This is Sylvia! She will talk to you about payments!" Finally, she points to a black and purple wolf with a skull and a emo haircut. "And finally, this is Ivy. SHe will talk to you about rules." She laughed and walked you to another room with 3 wolves, a wolf dog mix, and a dog. "This is the kind of art we can do!" She gleefully says. She points to a Black, red, and gray wolf and says "Bloodfeather will show you customs!" She points to a australian cattle dog and says "Cleo will show you linearts!" She points to a grey wolf with interesting markings and a blue punk hairstyle "Luna will show you our PARTS PICKER!"she points to a VERY bright Sparkledog. "Ravenheart will show you our Chibiwolves!" She points to the wolf dog mix and says "And finally, Alex will show you our Character Designs! Please Have FUN here!"