Berlin, Germany: Beelitz Military Hospital.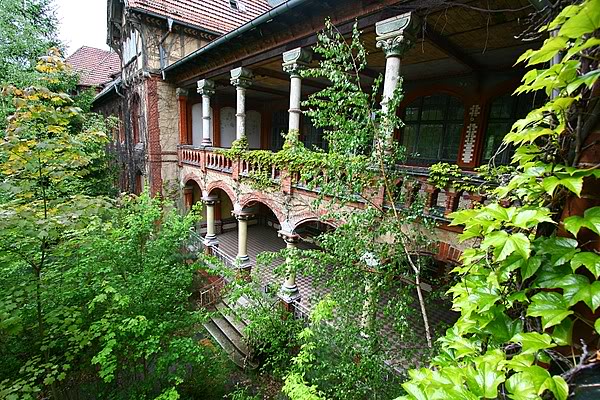 Beelitz Military Hospital was built in the late 1890's for the recuperation of injured soldiers. It was built in 4 sections that included hydrotherapy, surgery, psychiatric care and even a rifle range. After WWII it was taken over by the Soviet Army as it fell on the Eastern side of Berlin and Germany. After the fall of the wall and communism in Germany the hospital was slowly closed down with the last Soviet military patient leaving in 1995.
It was said to be empty, no one used it.
Atleast, that's what they thought.
Dogs. Dogs of all breeds and sorts, hybrids and mutts. Dogs from all around the world, haven gotten to Berlin in some form. Strays.
Few people have gone in the Hospital since the dogs took over. They are territorial and aggressive towards any other lifeform, whether it be a human or a cat. The few people who ventured in the old building were attacked brutally by these dogs, one of which was hospitalized for his injuries. The site was reported dangerous and a possible threat, especially since it was close to the city's main center. But for some reason, no one dealt with it. The dogs do not ever venture far from the hospital, leading people to believe that it was safe as long as no one went close.
Safe as dangerous can be.
_________________
Herro! I see you've stumbled upon my roleplay here. To be frank and basic, this is a stray dog roleplay that takes place in the abandoned Beelitz Military Hospital. Dogs have taken over the area and have formed many packs inside. These dogs are aggressive towards any animal besides canines. Well, sort of. By that I mean they don't blindly attack other canines. They do, though, fight between packs quite often. Mates are quarreled over and food is limited enough, other fuels for fights. There are no specific 'territories', dog packs roam.
In case you're wondering, the hospital is quite large. It can indeed hold many packs. I have some images below. Yes, this is actually a real place, these aren't just random pictures I found and threw together. You can use these to describe your location.
xxxx
xxxx
xxxx
xxxx
xxxx
xxxx
xxxx
xxxx
xxxx
xxxx
PLOT:
The hospital has been occupied by dogs for about 3 years. People have put up with them for that long, but tension is rising. Dogs are running low on food because humans stopped providing it. Trashcans around the area have been chained and people no longer throw food to the side of the road. If the high ranks won't give the go to remove the dogs, normal people will try it in their own way.

Dogs are beginning to fight each other more, turning cannibalistic in the worst of conditions. How long is it possible to survive? Only cruel time will say.
________________________
RULES:
All of the site's apply.
Just to be sure, some important ones:
No Mary sue characters, please.
No godmodding.
No forcebreeding.
Semi Literate only, please post at least 3 sentences. " But I have writer's block! " will not be tolerated as an excuse. Even with writer's block you're still a human capable of writing 3 sentences.
Mild cursing only. The words that the site allows.
Fighting is allowed, but please take excessive gore to pm. You MAY 'kill' other dogs, but again, take it to pm if it gets too gory.
Please be realistic. A Chihuahua will not be able to tackle and pin down a German Shepherd.
Please know the difference between an Alpha dog, a beta dog, and an omega dog. These are somewhat wolf based packs.
Romance is allowed, but in small doses and realistically. Please don't be one of those people who plays their dog falling in love at first sight, and eventually turns the roleplay in to a soap opera. Just remember that the goal of this roleplay isn't to fall in love and you should be fine.
Flirting about and romance are two different things! A ladies' man character is allowed to flirt because that is part of his personality. I just don't want intimate relationships at first sight!
AS FOR HUMANS. This is how it's going to work. I am not going to create human characters just so they can walk in and get attacked. You can powerplay a random human if you'd like, it helps with the plot.
_______________________
Forms:
Make it as fancy looking as you want, but I'm not wasting my time putting a bunch of annoying ass coding onto a form for you. I'm way too lazy, x3. Just make sure to add:
Name:
Breed:
Appearance: (Try to find a picture. Natural colors and patterns only)
Gender:
Age:
Personality:
History: (How did they get to Berlin? Or have they always lived here? )
3-5 Pros: (What's good about them?)
3-5 Cons: (What's bad about them?)
What Pack: ( If not the leader of one, just list the name of the alpha(s))
Pack status: (Alpha, Beta, Omega, No rank)
Other:
You can add more if you want.
___________________________
PACKS:
We will have as many packs as needed, though I'll start with just 4-5. Each can have two alphas, one beta, one or two omega, and however many followers.
They will be kept here.
Pack 1.
Alpha: Coydog
Omega: Annie
Followers: Iakov
Pack 2.
Alpha: Khena.
Omega: Bluejay
No Rank: Phobos, Ayita
Pack 3.
Alpha: Jackal
No Pack:
Rowan
Katerina
Lakita
Holly
Nikolai
_______________________________
ARCHIVE:
The characters in this thing. Will be listed by name with url link to picture, breed, and roleplayer.
Coydog
| Coyote Dog Hybrid | Koiyote
Iakov
| Cardigan Welsh Corgi | Koiyote
Khena
| Labrador x Husky x German Shepherd | aeiou
Bluejay
| Husky x Australian Shepherd | Agent Hawkeye
Annie
| Anatolian Shepherd x Kangal | aeiou
Ayita (right)
| Australian Cattle Dog | codelyoko12lover
Phobos (Left)
| Australian Cattle Dog | codelyoko12lover
Rowan
| Doberman Pinscher | -Vengeance-
Katerina
| Borzoi | Koiyote
Lakita
| German Shepard x Husky | Sparklemily6355
Ylava
| Canaan Dog | lmf2150
Falcon
| Doberman Pinscher | Silent Soul
Lupe
| Saarloos Wolfhound | wolfpuppies
Jackal
| Bavarian Mountain Dog(Hound) | Koiyote
Holly
| Border Collie | arcticwolf
Nikolai
| Mutt | wibeke
_____________________________
MY FORMS:
For my four characters.
Name:
Coydog ( Koi- dog )
Breed:
Coyote Dog Hybrid
Appearance:
xxxx
Gender:
Female.
Age:
4.
Personality:
Coydog is a secretive canine. She's very sly and has the makings of a perfect thief...if she had opposable thumbs. Although she can tend to keep to herself, Coydog is actually quite brave and has the makings of a decent leader. She, like anything with a personality, does have faults. She's a bit jumpy and impatient and begins to grow restless when kept waiting for too long. Also, her heart is quite hardened. She doesn't feel pity for those who may need it and would probably not risk her life to save someone else's. This said, she will defend her pack. Once her life is threatened, though, she'll let the problem starter in her pack deal with their own problem again. She doesn't mind fighting and has nothing against killing, though she prefers not to.
History:
Simple. Coydogs ( Coyote Dogs ) are rare and high in demand. When she was produced, an owner immediately wanted her. This owner lived far away from her home of Nebraska, over the seas in Berlin. As soon as Coydog grew old enough she was shipped to Berlin by plane, spending the entire time in a darkened back room. A few times she managed to escape from her cage by slipping between the bars, they had given her too large a cage. Each time she was shooed back in, the human equivalent of a slap on the wrist. So of course, it had little effect on her. As soon as the plane landed, her stealth came in to play. She escaped from her cage once more, this time hiding. When the attendant opened the door to unload, she ran. From there she kept going, eventually hitting the end of the airport and slipping under the chain link fence. The hospital was one of the first places she found; it made for good shelter. She was the first dog to start the packs that would inhabit the hospital.
3-5 Pros:
She's smart as a tack, a brilliant leader, and a good fighter.
3-5 Cons:
She's impatient, doesn't care enough about others, can be un motivated, jumps without thinking sometimes, and is quite cold.
What Pack:
Leader of her own.
Pack status:
Alpha Female.
Other:
Coydog doesn't have a real name. She never formally named herself and goes by what people call her. While she still lived in America people called her a Coydog, which is a slang term for a coyote dog hybrid. When she arrived at Berlin and escaped off her shipping plane, she simply kept the name. Also, her howl is like that of a coyote, not that of a dog. This is a coyote's howl:
xxxx
Name:
Iakov(ee-YAA-KaaV)
Breed:
Cardigan Welsh Corgi
Appearance:
xxxx
Gender:
Male.
Age:
6.
Personality:
Innocent seeming. It's only a facade, though. In all honesty, Iakov spent the first half of his life killing to live. You should probably read his history before continuing on. Anywho, he's very bold and violent in reality. He tries to cover up his old past by acting kind, but once he's gotten to know someone he becomes rough. He is very kind and respectful towards Coydog, though. He is a ruthless fighter and does not let his size get the best of him. This can get him into trouble, he has a somewhat big mouth. He would know no fear if a large dog like a Kangal challenged him, while in reality it could be dangerous.
History:
Iakov has always lived in Berlin. He is a purebred Cardigan and was preparing for the life of a show dog until his owner died. Not that he cared too much, but people came to take him away. Out of fear he ran. He began his life as a stray at age 2, hunting little things to live. As time passed, those little rats were no longer enough. He killed other dogs of his size, along with cats. Iakov refused to let his size be an obstacle, his largest catch was a Dalmatian. While you as the reader may be thinking this impossible, it's not. Teeth sink into the jugular, pull, dead. Simple as that. He continued this way, roaming about for years, until he tracked the scent of a dog in to the old hospital. When he first met Coydog he attempted to kill her, not out of contempt but out of hunger. Unlike show dogs and pets, though, she knew how to fight and pinned him down. From there he began to trust her, starting when she brought him food. He joined her pack as a follower at age 5 1/2.
3-5 Pros:
He's very brave, rather patient, and is extremely loyal.
3-5 Cons:
He can go through rapid mood shifts, he's unpredictable sometimes, and he is still ruthless at times, he's rather slow.
What Pack:
Coydog's.
Pack status:
No rank.
Other:
None.
Name:
Katerina (kah teh REE nah)
Breed:
Borzoi//Russian Wolfhound
Appearance:
xxxx
xxxx
Gender:
Female.
Age:
3.
Personality:
Young, arrogant, and pretty sure of herself. Katerina is proud of herself, her coat, her purebreed stats, and everything else she is. She knows that she's pretty to the eyes and will use the fact to her advantage. She knows no respect for others at all and it's for this reason that she is in no packs. Katerina can be a paper tiger, though. She talks a lot, big talk, but sometimes can't find ground firm enough to stand on. She hates backing down and, if she is forced to, does it in the most prideful way possible, usually insulting the opponent as she goes. She will fight, though, she's actually rather good at it. She thinks herself higher than the other dogs because of her pure blood. Although it seems like she only has the head of a pretty dog, Katerina shares a common trait in Borzois; she's smart as a tack. She shows this side only when she needs to be serious. Lastly, she's a flirt. She finds it fun to play games with males and will insult any females near her. She's highly competitive over males.
History:
She's a Russian dog by birth. Just like her siblings she was sold, her new home around the area of Berlin. She was a bit further off from the city, though, and hated the life she was living. Her owners actually had no intentions of showing her, regardless of her perfect pedigree, so one day when the door was open, she sneaked out. From there she ventured to the city, living in the streets among other strays for a short time. When she grew tired of the roughness of that life she moved on, eventually stumbling upon the hospital.
3-5 Pros:
She's fast as wind, agile, a good jumper, smart, and has an excellent sense of smell.
3-5 Cons:
She's somewhat of a...female dog, she can't always stand her ground, she lacks strength, she is stubborn, and her competitiveness can get in the way.
What Pack:
Loner.
Pack status:
Her own boss.
Other:
She is extremely aggressive towards humans.
Name:
Jackal .
Breed:
Bavarian Mountain Dog(Hound).
Appearance:
xxxx
Gender:
Male.
Age:
5.
Personality:
He's an odd one. His personality can go from sweet to bitingly rude in just a moment's notice. Sometimes he treats pack members well, the next he is attacking them. He has no problem killing anything and loves to hunt; he is a hound, after all. Sometimes he can be a bit over violent, lashing out at anything to come near him. He never apologizes with words, but sometimes makes small actions to ask for forgiveness. He does have soft spots, of course, it just takes the right dog to get to him. He is extremely faithful to those who gain his friendship, a feat very hard to do. Just because a dog is in his pack does not mean he's on friendly terms with it. He's only had few friends before, all of which have died in some form. This is one reason he is so hardened. He fears almost nothing when first diving into something, but the consequences of his actions don't take long to catch up.
History:
His is simple. He has always lived in Berlin as a simple house pet and hunter's dog. One day his owners left the window open, he caught whiff of a rabbit, and he leaped out to chase for it. By the time he caught it, Jackal had strayed quite far from his house. He could have easily found his way back, but decided to move on instead. He didn't spend much time on the streets as his former home was rather close to the hospital. He barged his way in, ignoring the already present dogs, and made a name for himself.
3-5 Pros:
Excellent senses(hearing,sight,smell), fast, powerful, bold.
3-5 Cons:
Snaps easily, aggressive, not too agile, rude, shows no respect.
What Pack:
Alpha of his own.
Pack status:
Alpha.
Other:
Nope.
___________
I hope you join! : D