Welcome to the Jungle
You sit quietly in the jungle, swatting at the mosquitoes that buzz around your head in swarms. As you write in your journal and take another sip of your dwindling water supply, you ask youself if this trip is even truly worth it. These creatures may not even exist, just like your friends said! You scoff at your own stupidity and begin to pack your things. Then you notice something: a blue glow reflected off the leaves that grow from the trees, shrubs, and vines. Your heart skips a beat;

the light that will lead you to the treasure

. You whip around, only to find the huge maw of a big cat merely inches away from your face. You spook, falling backwards over the log on which you had sat.

"Do not be afraid, human," he speaks calmly, his deep voice strangely reassuring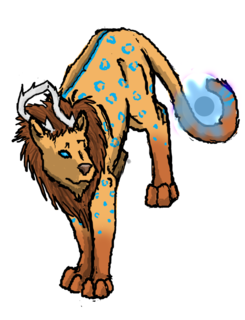 despite his intimidating looks. But, upon closer inspection, you also notice how
beautiful he is. He stands six feet tall at his shoulder, his frame sleek but well
muscled. His coat is colored similar to the North American mountain lion with light
blue leopard spots dotted across his back, shoulders, and haunches. His tail holds
a ball of light that shines a light silver-blue, and his eyes seem to glow in the same
mesmerizing color. His mane is long and a rich brown color, making the two silver
deer-like antlers that grow between his lion-like ears stand out. The antlers connect
roughly two feet above their base in what looks like a crown. "What is your business
here?" He asks. After a long moment of stuttering over your own words, he laughed
good-naturedly. "You are like the others," he spoke. "Here for a companion, is that
right?"

You nod slowly, still in a state of shock that they actually do exist. He beckons you to follow, the big male moving off into the forest with almost unnatural grace, his pawsteps utterly silent.You scramble to catch up before he leaves you. "I am Sinha," he tells you as you approach the entrance to a luscious rainforest valley."I am the Alpha male of this pride, and many before you have risked their lives to find us. We are the last pride of our kind, but we number in the hundreds. We are hoping that with some of our members who wish to find human companionship may also spread the news of our plight to the world." He sighed. "We are losing our home, slowly day by day, and just barely having recovered from once being hunted nearly to extinction. He stopped at an area where vines grew in a great archway, adorned with colorful and fragrant flowers from the surrounding valley. "You may enter," he said. "Good luck on your quest, and may the stars keep you safe on it." With his blessing, the big male disappears once more into the shadows, not a single leaf left disturbed, almost as if he was never there. Your resolve now strengthened tenfold, you bravely venture past the great arch and into the valley below.
Welcome to the Light


As you cross the fast-moving river, the water sparkling and very clear, you spot more Syhran moving around a large clearing, talking and socializing with others of their kinds as well as some different creatures as. This is the place. "Greetings," a female Syhran greets you. Her pelt is grey and white with gold tiger stripes, her gazelle-type horns connecting above her head in a shining onyx color. " I am Rānī, Sinha's mate and co-leader of this pride." As she speaks, she regards the rest of the Syhran within the clearing. "I surmise you're here for a companion," she says, her voice soft and melodical. "All of the Syr that are willing to take companions are here. We request that you stay within the clearing as some mothers can tend to be territorial when they're with cub, and we don't want any accidents." She smiled. "Feel free to mingle with those here, most of them are very friendly so there's no need to worry. There are also a few rules, so that our way of life isn't disturbed."



Rules

*The species is of my own creation, as well as the lineart and "species' specs".

*No stealing. PLEASE no stealing. I don't want to have to report anyone for theft but I will not hesitate to.

*No spamming. If it isn't related to the Syhran, then it doesn't belong here. Questions are fine.

*Customs will open when they open. Please don't ask.

*New Syhran will come to the clearing as their own pace.

*If you don't win, don't complain. There will be more.

*Don't be rude, hateful, or put down someone else's form. Each entry is amazing, no matter how long or short.

*When you're appealing to a Syhran, don't play them, only play your own character. This keeps them neutral until they decide their companion.

*Also, no mini-modding. I have mods and mini-mods assigned. I do thank you for your concern but they, or I, will take care of it.

*I will add more as I deem necessary.

*Oh, and the most important of all, have fun

This is my first species and I'd love nothing more than for people to enjoy them.



With a flourish of her tail and a respectful nod, she moves off to watch the cubs who are playing and frolicking in the nearby shrubbery.