~Ḉʚℓα Ѵαℓℓɛʏ~

We now have a RolePlay! Please joing if you are a member of this thread!:D
We now have a stamp! Thanks to Ardra! Love u Ardra.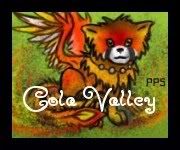 Code: Select all

[url=http://www.chickensmoothie.com/Forum/viewtopic.php?f=58&t=833266][img]http://i1189.photobucket.com/albums/z440/ArdraScylla/cwnJR.jpg[/img][/url]
Customs
CLOSED
Adoptions/Pound
OPEN
Breedings
CLOSED
Ĩŋƒő wrote:

Feer





Feer are the smallest of the species here at Cola Valley. They are basically ferrets with horns. They live alot like ferrets and eat insects, small animals(Such as mice or young rabbits) and love to fish. They are quick on their feet and are very rare. Much rarer than the ferrets themselves. They have been pushed to huge measures, though, and are finally agreeing to live with humans.



They make wonderful companions. They are very smart and loyal once they get attached to someone. They rarely ever switch owners and that is only for desperate measures. They mate for life and the only time they can have a new mate is if somone gives theirs to the pound. They can breed twice per mate in their lifetime, producing 1-3 cubs each time. They can only switch mates once in a lifetime, though.





Spreery





Spreery, probably the second smallest animals here in Cola Valley. They are more like a red panda and have habits much like them. Theyaverage 2 or 3 feet tall and have tails from 13 to 15 inches long! They like to feed on bamboo and have long, dull claws used for grasping the trees. More things they like to ear are the fruits from trees and bird eggs as well as blossoms and some types of leaves.



Spreery can mate to anyone but only 3 different times and there has to be at least a week in between. They do not breed permanently and have 3-4 cubs a litter. They are much more onry than the Feer and tend to be quite moody sometimes. Though other times they are as sweet as sugar. They can switch companions multiple times and still love each one just as much. They are quite adaptable to living habits.



mutations are quite rare but are possible. They are more often found in customs and breedings of customs. there are several types of horns and then there are just normal ones without horns as well. Keep your eyes open, though. I might throw a few in a litter every now and then to keep you on your toes!



Makii





These are a very rare species that are only found in auctions. You can't even order customs of these rare creatures. They are not a mix of anything and have quite large eyes. They are expertise fishers and can jump very high, helping them also be amazing bird hunters.

They breed but only produce one offspring so it's not ideal to breed them with two different owners of the parents. They are about the size of a miniature horse and have alot of hair and fur around their tails and feet. As well as a small mane on their necks that are strictly for decor. The only mutations are different facial expressions and eye sizes. This is the main form of them but there are others. These are very spoiled creatures and will only join someone that will pay highly for them and raise them on high standards.
Staff





News wrote:
Oct. 21- Just made it. Still a WIP so no posting. Nervous about the opening...
Oct. 30- Linearts are up. Litter in the making!
Dec. 3- *NEW* There will now be a PPS spreery as a mutation. I hope everyone likes the idea!

I got the different letters from http://www.questgems.com/alt_codes.htm