Welcome to the world of Foximps!
Foximps are canine creatures ranging in size from house cat to hummingbird. They come in many different species however only a few have been so far discovered. They may come in any pattern or colour and have varied personalities. Foximps mate for life however they may breed once before settling down with another Foximp. There are 3 known genders for Foximps as well, of course male and female but also the very rare Ungendered. These foximps are neither male nor female however they can still breed. A foximp will have up to 4 pups in a litter, there can occasionally be more or less. The species discovered so far are: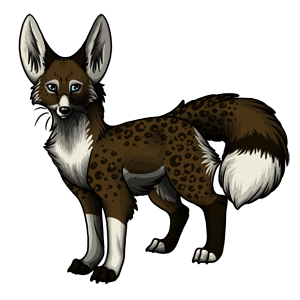 Normal Foximp
- The standard of Foximps, all species came from the normal. These are very common.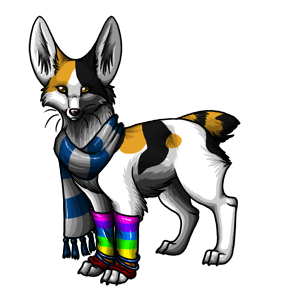 Bobtail Foximp
- Foximps born with stubby tails. These are common.
Flop-ear Foximp
- These Foximps are born with weak ears that fold forward or 'flop'. They are common.
Curly-tailed Foximp
- A recently discovered species of Foximps with fluffy, curled tails. This specie is common.
Kitsune Foximp
- Foximps born with a spinal mutation giving them 3 tails. They are an uncommon specie.
Angelic Foximp
- Foximps living in trees that developed small wings for short flight and gliding. Characterized by wings on the back and front ankles, they are Uncommon.
Demonic Foximp
- Characterized by their horns and wings, these Foximps are nocturnal and very territorial. Uncommon specie.
Sabre Foximp
- They appear to be a primitive breed similar to the Bobtail. What makes the Sabre different is its short mane running from the forehead down the spine to the shoulders and the very long canine teeth. This species is uncommon.
Capricorn Foximp
- A sea dwelling foximp characterized by their large, curved horns, finned ears and fish bodies. These Foximps are a rare sight indeed.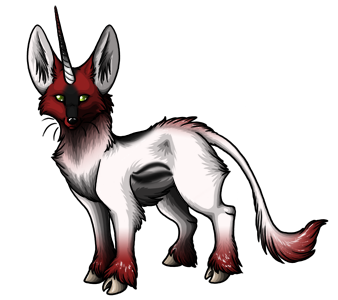 Unicorn Foximp
- A shy foximp from the forest, they have cloven hooves, a single straight horn and a tufted tail. Like the Capricorn, they are rare.
Kirin Foximp
- A reclusive species evolved from the Unicorn. Characterized by a single curving horn, cloven hooves, a full mane, tufted tail and scales along the body and legs. These are the rarest of Foximp species.
Omg a fanclub?

Staff
Mod, Artist, Creator - Keeks

Rules
-No copying/editing of the lines or colouring of Foximps.
-No claiming Foximps as your own idea/species.
-Do not use another Foximp without the owner's permission.
-Please keep Foximps here on CS. You may add them to your personal character site if you'd like.
-Do not take credit for the colouring or designs of adopted Foximps.
-
Do not ask when new batches/litters/customs/breedings will be open. They are at random when I have time.
-Please do not ask if I need any artists/mods/staff. If I do I will make it publicly known.
-Please do not spam the thread, questions are fine but random chat needs to be taken elsewhere. This includes 'I want one!', 'I missed the opening :c', 'Marking', etc.
-No negativity! Foximps don't like negativity, it makes them ill.
-These are not fursonas, just characters.
-No begging, whining, complaining, arguing or bribing. Not happening.
-Please be respectful to everyone here.
-Please don't remove the link back here for Foximps.
Not following the rules will result in a strike, a strike will stay attached for a week. 3 strikes and you're banned from the thread.
Minxxy - No longer on ban
Tilley989 - 1 strike, removed by 10-24
Catfight - Banned from adoption at this time
FAQ
Q. When is the next batch/litter coming out?
A. I have no idea! They come out when I do them and I do them when I have time.
Q. When will customs/breedings open?
A. Again, no idea! I will do them when I have time please don't rush me.
Q. Do you do trades?
A. I might, if you have adoptables and are interested in a foximp I might trade if you have an adoptable I want. These would not be custom and I will not make rare or very rare foximps for trade.
Q. Will you pm me when batches/litters/breeding/customs open?
A. No, I am way too busy to be messaging everyone who might want one.
Q. Can I make suggestions?
A. Sure! If you think I could do something better please let me know. You may also suggest designs but these will be things like 'Wild birds' or 'You should make some grey/pink foximps.' They will be vague and I will not do specific characters.
Q. My foximp was bred with my friend's but now I want it to be mated with one of my foxes. Can they breed?
A. Yes, foximps can breed once while unmated and once while mated.
Q. How do I breed my foximps?
A. a. If you own both foximps you will need to purchase a breeding plushie and wait for breeding to open.
b. If you and another person own the pair then you will both need to purchase a plushie and wait for breeding to open. I will choose which couples to work on but don't worry, if you don't get picked another season will open.
Q. How many foximps can I have?
A. The limit is set at 20.
Q. I don't own a foximp yet, can I buy items?
A. You can only buy custom pearls without a foximp. All other items are 'frozen' until you have a foximp. You cannot buy items for a future foximp.
Q. How do I get a custom foximp?
A. First you will need to purchase a pearl from the shop. Next, wait for customs to open. All forms will be ignored until customs are open. Once open, post your form in the thread. I will choose which foximps I'd like to work on.
Q. You didn't pick my custom foximp, do I still get to keep my pearl?
A. Yes, the pearl will stay in your inventory until it is used in the creation of a custom.
Q. Do you need any artists/mods/staff?
A. At this time, no I do not. If I would like additional staff in the future I will post here about it and make an application process. Please, stop asking.
Have a question not mentioned here? Please ask and I'll add it :3