WE HAVE FAN CLUB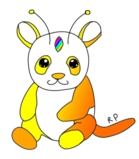 Name of Species:
Atractines
Height:
50-80cm
Weight:
8-10kg
Colours:
Panda Bear elements can have any and all colours, the rest of their body are always white. Sometimes some of them has a fine design on the tummy or two-coloured anteanne. Not many of them have wings.
Food:
Fruits, mainly peaches. They are inhabiting the big island, on which mainly peach trees grow, but there are also other trees there. Water in rivers is clean. They love to drink it.
Life spam:
280 years
Special powers:
the crystal on the head of little bear lets him look into dreams
About them:
Atractines are very cheerful beings, adore themselves to entertain, are eternally smiling. They live together in largest groups.
NEWS: I will have some new linearts of Atractines so they will look better

Lineart 1 (made by KellyPony):
Lineart by Akami-chan: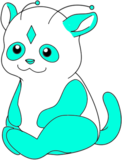 Banner:
Code: Select all

[url=http://www.chickensmoothie.com/Forum/viewtopic.php?f=58&t=698462][IMG]http://i209.photobucket.com/albums/bb8/kagome19_2007/baner2.png[/IMG][/url]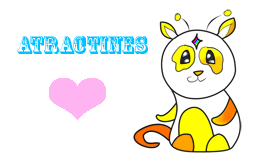 Code: Select all

[url=http://www.chickensmoothie.com/Forum/viewtopic.php?f=58&t=698462][IMG]http://i209.photobucket.com/albums/bb8/kagome19_2007/Banner3.png[/IMG][/url]
Lovely kitties:
Get your Ice cream xD