sparrow_blossom wrote:Ok guys, I've come to a conclusion.
I've decided I'm going to shut down and possibly give away Dinosir Adopts.
With school and all, I just don't have the time to keep it going, and frankly, I don't have the motivation, either.
I'm sorry to those who have stayed with it this long. I appreciate your support. <3
Welcome to Dinosir Adopts!
As we all know, there are many adoptables on our beloved Chicken Smoothie. Dragons, wolves, and horses are among the most common.
But - what about dinosaurs?
Dinosaurs are rarely seen on CS. That needs to change. It is the time for Dinosirs! Dinosirs and Dinodames are a recently dicovered species with a flare for fancy. They come in a range of colors and patterns. Here you can learn more about this fabulous species and perhaps even adopt one of your own. To adopt one, simply click on one of the colored-in versions by one of the artists and follow the rules set by them.
What is a Dinosir?
Dinosirs are a fancy species of dinosaurs that come in a range of colors and patterns. Since they only grow to be about 3 feet tall, they are easily able to live wit humans. They are able to communicate with other Dinosirs and humans, as they are highly advanced. They are omnivores and enjoy a wide range of foods. Above all, Dinosirs enjoy being fancy and interacting with others.
Rules
- Do not, under any circumstances, steal or copy the species.
- Permanent artists are allowed to have 2 customs.
- You may have up to 4 Dinosirs.
- Do not copy other's forms when applying for one.
- Do not use them outside of CS.
- Do not rp with them outside of official Dinosir RP's.
- Respect the artists/mods and do not bribe them.
- No spamming/complaing.
More About Dinosirs
- Dinosirs always have top hats mustaches, boy or girl.
- Dinosirs can come in any colors, but not eye-burning colors.
- Dinosirs can live to be up to 100 years old.
- Dinosirs may have limited accesories.
- Dinosirs can live with humans as pets.
- Dinosirs are omnivores.
- Solid colored Dinosirs are rarer.
Dinosir Lifecycle & Sizes
Unlike normal dinosaurs, Dinosirs rarely grow above 3 feet.
Their anatomy may not be exactly according to their real relatives because they are a different species.
Egg - 3 weeks


Dinosir eggs take about 3 weeks to hatch, very rarely shorter. If it takes longer it will most likely die.
Eggs are about the size of a chiken egg.



Baby - 2 years


Baby Dinosirs have smaller mustaches and no hats. They stay with their parents.
They turn into a child at 2 years of age.
They are the size of a rabbit.



Child - 10 years


Children stay with their parents and aquire their hats.
They turn into a teen at 12 years of age.
They are about the size of a large housecat.



Teen - 10 years


Teens are more independent and help take care of children, babies and eggs.
They turn into adults at 22 years of age.
They are about 2 feet tall.



Adult - Until death


Adults watch over the younger Dinosirs and whatever else they please.
They are 3 feet tall
.
Artists
- Junsui
- Silver Bullets
- Swift Wing
- Wolf Blood Song
- Gherit
I am

not

looking for more artists.
If any of my current artists no longer want/can fuffil their position, please PM me.
Mods
- Kennet
- Nightmaregirl
- Hurricane Fluttershy
-Appletear
I am

not

looking for any more mods.
Guest Artists
Guest artist slots will open every Sunday.

-
-


Code: Select all

I want to be a Guest Artist!
Name:


Guest artist slots are currently closed.
Adopted Dinosirs
Harold belonging to spαrrσw_вlσssσm
Kale belonging to Hurricane Fluttershy
Sir Robert Louie belonging to ☁Rαιиу-Cℓσυ∂☁
Monsiour Theodore Sebastian James II belonging to PaperCrane
Tod belonging to SwiftWing
#5 - available
Jennifer belonging to xAnime_Loverx
#7 - available
Other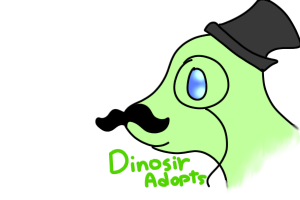 Code: Select all

[url=http://www.chickensmoothie.com/Forum/viewtopic.php?f=52&t=1275595][img]http://www.chickensmoothie.com/oekaki/image/image.php?id=1069299&size=medium&format=png&rev=1[/img][/url]
Code: Select all

[url=http://www.chickensmoothie.com/Forum/viewtopic.php?f=52&t=1275595][img]http://i46.tinypic.com/1q045y.png[/img][/url]
Thanks to Appletear for the banner!
Dinosir Fanclub!

To artists:
No eyeburning colors. If you make a Dinosir and it has not been adopted, do not post another until it finds a home. Dinosirs ALWAYS have mustaches and hats, but they can be any color. Artists can have 2 customs. They have to have at least 2 colors. Solid colored Dinosirs must have my approval. Please make original designs. If referenced from something else, post a link to it. Quote the 'What is a Dinosir?' in your post. Also, number the Dinosirs in order.

To Guest Artists:
You can make yourself a custom if you don't already have one. You are allowed to make 2 Dinosirs, but no more than that. Yes, a custom does count as one of your two Dinosirs. You must follow all the rules of the artists.