I've recently gotten my spark back after a half a years Hiatus on art so I've decided to open up an art shop.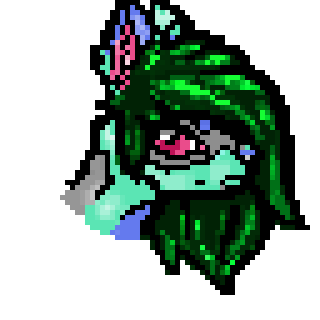 Laith my fursona
Currently I'm really into Pixel art and use Piskelapp.com to do it so I'll be trying to get better with it (any tips pm me).
The blinking sprite took me about 2 hours and is my first ever sprite so don't try and rush me please. So I don't get swamped I'll only open 5 slots at a time with a first come first serve. Try and remember not to request anything too complex because I'm still learning and working on a style that will work better than my own in pixel form. my own style is very whispy in traditional art so I'm trying to adapt to a more chibi.
I will draw most furry, or animal as long as it's not too difficult. I ask that no one requests Oekaki art yet since I haven't practiced with it for a while and just got my drawing tablet to start working again.
Prices: Rares don't have to be wl Negotiable prices. (If anyone knows a better way of breaking down how to price these please pm me....)
Head shot = 1 rare '12/'13 / 10 C$
Floating = included
Effects = + wl uncommon / 2 C$
Simple action = 1 rare '11< or 1 vr '11>/ 20C$
Feel free to tell me what you think of my prices. When I sit down and do the pixels it can take anywhere from 2-3 hours for the ones with no actions and an additional hour for actions.
If you want more than one piece for more valuable pets I can do that as well.
Simple actions will be blinking, smirking or ears moving.
Effects are like hearts coming out or blushing
I can't tilt the head or create gradients. Too many colors on bigger designs means no 100x100, so choose between that and simpler line art.
Complex actions would cost more for more complex designs.)
I have a right to refuse anyone but I will try and accept all requests that I think I can do. I'll not accept the trade until I've posted the finished pixel on the thread. Stay alert to my posts on here because I'll say when I'm working on them or ask questions.
~Slots~
~1~Lunala.
~2~BlizzardTheWizard
~3~YourGayness
~4~ -Res for me-
~5~Sliced Fox
Form:
Code: Select all

Username:
Character:
References:
Floating?:
Expression:
Action:
Effects:
Size:
Payment:
Suggestion: