//this is a temporary art shop and will be closed when i get what i need C:
///as such, i would prefer it if you PM me and do not post here so i can delete this thread when done with.

/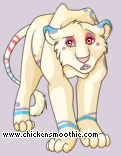 SO
like most people i'm looking for that pesky July Lion.
i'm offering art for it.
i have a lot of different stuff i can do for it-
i mostly am good at animals.
cats, dogs, etc.
you can ask that i go into things like horses and deer, however know that it would be very shaky because of lack of work on them.
i'm letting you pick a couple of these.
HOWEVER please do not pick more than two custom pieces as they take a long time.
if you want comic pages, the max number i can go in a short amount of time is 5.
PM me or send a suggestion SHOWING the July Lion and i'll get back to you!